Did "ballot harvesting," not a rejection of Trump, cost Republicans Orange County?
Did "ballot harvesting," not a rejection of Trump, cost Republicans Orange County? by William A. Jacobson Legal Insurrection
Republicans were out-hustled by Democrats in the use of this recent change to California law
What started as a good night for Democrats in the House on Election night 2018, turned into a very, very good result after paper ballots were counted days and sometimes weeks later.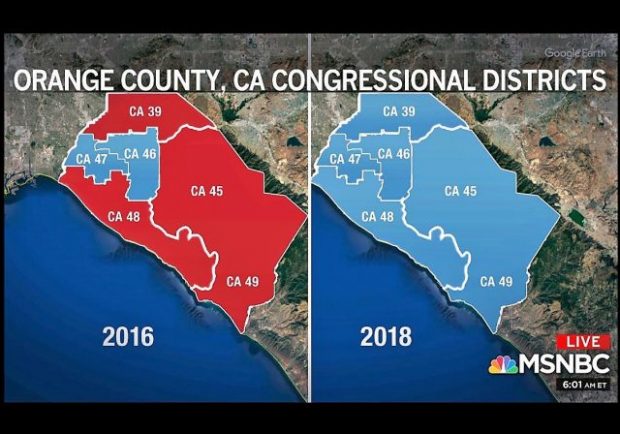 In Orange County, often referred to as Reagan Country, it was a wipeout (see Map above).
The conventional wisdom is that Trump lost California Reagan Republicans in Orange County.
This November 18 CNN analysis is typical of the conclusions the mainstream media and Never-Trump Republicans drew:
It was where "good Republicans go to die," Ronald Reagan often quipped.

Now, with the final ballots counted, Democrats have achieved a total takeover of congressional seats in the one-time Republican bastion of Orange County….

"We are seeing a realignment with college-educated voters and Orange County is ground zero for this phenomenon," said Sean Clegg, a California-based Democratic strategist who advises US Sen. Kamala Harris and California Governor-Elect Gavin Newsom. "This election was a clear referendum on Trump and Trumpism and people want the reality show to end, particularly suburban women."
The Democrats' success in flipping all four seats from red to blue is a stunning development for a county that served as the North Star for Reagan-style conservatism.

"The cataclysmic losses in Orange County are the manifestation of changing demographics that have been in motion for a couple decades. Trump has accelerated the political consequences the GOP," said Rob Stutzman, a California-based Republican strategist, noting that the lesser-known GOP candidate for governor, John Cox, is still winning the county by a slender margin, according to the latest results posted by the Orange County Registrar of Voters.

"That's good evidence that the congressional losses are a Trump effect," said Stutzman. "The GOP can compete to win those seats back in two years and new district maps in 2022 will possibly yield a clear GOP seat. The 'Orange Curtain' has fallen but Republicans will still compete in Orange County for the next few election cycles. They'll be more likely to succeed without Trump on the ballot."
While simple, that narrative may be wrong in Orange County and throughout California, where Republicans fared okay on Election Night, but lost numerous seats as paper ballots were counted.