Which Matters More to Gold Prices, Fed Rates or the Stock Market?
Which Matters More to Gold Prices, Fed Rates or the Stock Market? by Adrian Ash – Bullion Vault
Picking through history as the Fed moves 'just below neutral'…
WHICH matters more to gold prices, the stock market or interest rates? asks Adrian Ash at BullionVault.
As hard to destroy as create, gold has in the past offered a hide-out from long-term slides in the stock market – a hide-out you don't need if equities are soaring.
Higher interest rates are meantime typically seen as a bad thing for gold too, because a lump of metal pays no interest and so cannot compete with cash-in-the-bank when rates rise.
Hence the gloom about doom in 2018. The stock market hit a run of fresh all-time highs even as the US Fed pushed ahead with its baby-step hikes starting end-2015.
Come autumn in fact, the rest of the world caught up. September marked the first month since at least 2007 when no central bank anywhere in the world cut its headline interest rate. October then saw major-economy equities join the slump in emerging markets.
A coincidence?
Now all the chatter is about the Fed maybe pausing its rate rises in 2019, if not as soon as December.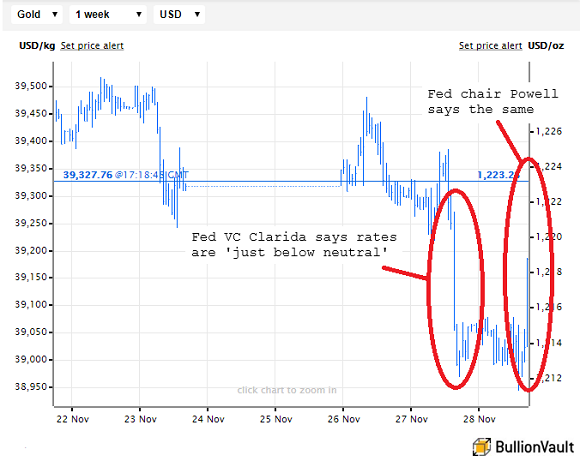 The Fed itself is at least repeating the same line, but poor Mr.Market doesn't know what to think!
The Fed's line, at least, matches with reality.
Because here at end-2018, and with the CME's interest-rate market still expecting the Fed to raise to 2.50% in December, US interest rates are set to rise above the pace of US inflation for the first time since 2005.
The last such hike came on the eve of the worst financial crash and crisis since the 1930s. You might wonder if the two events weren't linked.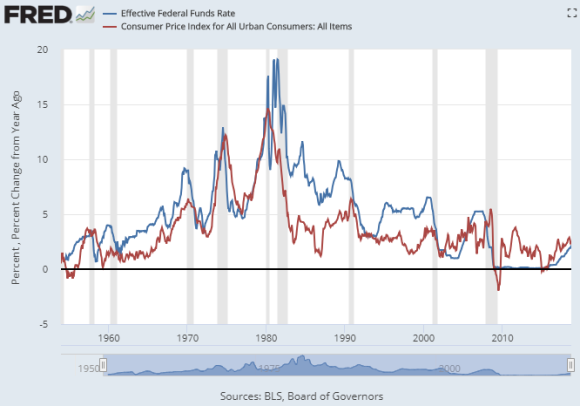 What to make of it?
First, higher Fed rates don't guarantee a recession. But like Trump surely knows, they have preceded every US recession but one over the last 60 years.
Second, and with the stock market slumping like it just did, it will take a brave Fed chair to actively push real interest rates above zero for the first time in 13 years, back before the global financial crisis.
Tight is maybe the wrong word, but given what the crash in oil prices will do to this month's headline pace of inflation, Fed rates haven't been this high in real terms – very nearly above zero, or "just below neutral" to quote the Fed's No.2
Richard Clarida yesterday
and now his boss, chairman
Jerome Powell today
– since the deflation scares of 2009 and early 2015.