Independent Media Labeled 'Dangerous' & Disqus Comment Notifications Listed In Gmail As Suspicious Or Spam
Independent Media Labeled 'Dangerous' & Disqus Comment Notifications Listed In Gmail As Suspicious Or Spam By Susan Duclos – All News PipeLine
TDC Note – While this is new to me, it is not surprising at all. My own email blast – the email newsletter we send out – comes as "spam" into my email!!! It doesn't matter how many times or what I do, it is labeled as "spam" and goes to the spam folder.
Click here to sign up for our free newsletter – just don't forget to check your spam folder when they start arriving.
####
Independent Media readers are well aware of the multitude of ways big tech and social media platforms have been censoring conservatives, from demonetizing video channels, to blocking, banning and shadow banning conservatives, to limiting the reach of promotions and by "tweaking" algorithms so that search results push Independent Media sites so far down that they can rarely be found. They also colluded to completely deplatform Alex Jones, where a dozen different services cut ties with him, or terminated service all within a 24 hour period of time.
This morning The Daily Caller published an exclusive blockbuster report showing discussions by Google employees, where they debated whether to bury conservative media outlets content in their search results, after Donald Trump won the 2016 president election, in order to prevent him from winning again.
A Google spokesperson told The Daily Caller "Google has never manipulated its search results or modified any of its products to promote a particular political ideology. Our processes and policies do not allow for any manipulation of search results to promote political ideologies."
Any Independent Media website owner, including here at ANP, can tell from looking at the data that Organic traffic from Google (from searches) slowed to a trickle after the 2016 election, as others have also found that Google employees were warning advertisers about their "brand safety," if they allowed their ads on certain websites,.
The point here is despite the denials of social media giants and big tech, there is a coordinated effort to limit the visibility, and revenue generation, of Independent Media websites.
BIG TECH FINDS NEWS WAYS TO ATTACK INDEPENDENT MEDIA WEBSITES
Over the past few weeks I personally have noticed that any email notification I get from the commenting system Disqus, telling me someone has commented on an article thread, when the "Reply" option is clicked so that I will be brought to that comment on our website, Google's Gmail warns me it is a "Suspicious link." Then the message states "This link has been flagged as suspicious. Are you sure you want to proceed to disq.us?"  Then it offers the choices "Proceed" or Back" with the "back" option highlighted.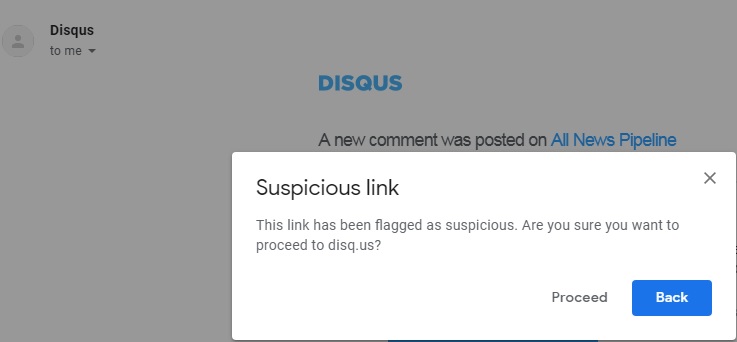 A couple points here. 1) The email notifications are an opt-in option that are set in the Disqus
settings
. I, of course, have every comment left on ANP sent to me via that email notification, in order to be able to keep track of PipeLiners commenting, or spammers, or trolls. That brings up the question of who would be "flagging" those notifications? Anyone can turn those notifications on via Disqus, and by the same token, they can turn them back off as well.2) When we click "Reply" via the email,
the link
takes readers to ANP, not to Disq.us, in order to respond, comment or even just read the entire thread of comments.
Next: ANP's Newsletter, which I have automatically had sent to myself every time we send one out, and have done so for years, is also being flagged by Google's email system, now telling me "This may be a spoofed message. The message claims to have been sent from your account, but Gmail couldn't verify the actual source. Avoid clicking links or replying with sensitive information, unless you are sure you actually sent this message. (No need to reset your password, the real sender does not actually have access to your account!)" They then offer the option to "Report Spam," or to click the "Looks Safe" option.
I repeat, I have had the newsletter sent to this account, from this account, since we began sending them years ago, so telling me they "could not verify the source," when at the bottom of every one it says "Powered by Mad Mimi," and has our P.O Box, city, state, and zip code listed, as is required by email newsletter services, provides plenty of verification of who sent it.
Exactly how much verification do they need?