Arkansas Swamp Bleeds as Clintons Circle The Drain
Arkansas Swamp Bleeds as Clintons Circle The Drain by Corey Lynn – Corey Digs
Many have read sprinkles of press releases from the justice department regarding arrests and indictments coming out of Arkansas, but few have observed the magnitude of this swamp creature and all its tentacles. They rarely tie the individuals into the big picture in these press releases, so oftentimes, it's a quick, "yay, another swamp creature down," without realizing they all connect. Aside from local news outlets in Arkansas, that require paid subscriptions to read the news, the Arkansas swamp is getting little to no coverage.
Remember the plane full of documents in Little Rock? Everyone was speculating as to who/what it could be about, and hoping it had to do with the Clinton Foundation investigations. Is it possibly connected to this ongoing investigation into legislator fraud? In August 2018, Deputy Attorney General Lloyd Warford, said that investigators have at least 4 million documents in a vault and another 200 gigabytes of information they have collected from the Department of Human Services. Warford also confirmed that more lawmakers are under investigation by the state, in cooperation with the federal investigation. They have already convicted over a dozen individuals in one case alone, several of which are former or current legislators, one former senator has already begun his 18-year prison sentence, and there are a slew of other individuals listed in indictments. It is quite an extensive list below.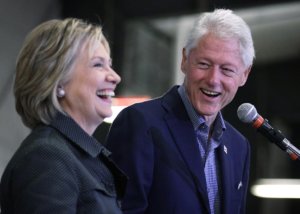 Furthermore, on January 4, 2018, the Justice Department launched a new inquiry into whether the Clinton Foundation engaged in any pay-to-play politics or other illegal activities while Hillary Clinton served as Secretary of State. As far back as October 31, 2016, The Wall Street Journal reportedthat FBI field offices in New York, Los Angeles, Washington D.C., and Little Rock had been collecting information on the charity for more than a year. That's an interesting timeline, as that aligns with when the Arkansas swamp case emerged as well. Apparently, the L.A. office had gathered information about the foundation in an unrelated public-corruption case. Interestingly, lower-level FBI agents stated that McCabe instructed them to stand down. One might speculate, there have been Clinton Foundation investigative documents compiled from multiple states, going back to 2015, and those documents were placed into the appropriate hands in 2017. That's quite a head start.
Coincidentally, the more recent Clinton Foundation probe was also examining whether any tax-exempt assets were converted for personal or political use, and if the foundation complied with applicable tax laws. Why is this a coincidence? These areas of investigation are precisely what they have been investigating with other elected officials and appointed officials in the Arkansas swamp cases. Do these investigations overlap or perhaps tie together somewhere along the rope? Hard to say just yet. One thing is for certain – they are hunting webs. These are not single criminal incidents. They are going after the networks. What does this mean? This is not about flinging snowballs, this is about creating an avalanche. The question is, who all will be rolled up in this snowstorm?