Venezuela, Nazi Gold and BIS Account No.17
Venezuela, Nazi Gold and BIS Account No.17 by Adrian Ash – Bullion Vault
Maduro wants 'his' gold. London says 'No'…
SO the DASTARDLY Bank of England is refusing to give Venezuela its gold back, writes Adrian Ash at BullionVault.
The government of Nicolás Maduro simply wants to take possession of what it still holds in London – some 14 tonnes of bullion bars apparently – because it "fears the gold could be caught up in international sanctions [against] the country,"
reported Reuters
on Monday, citing un-named sources in Caracas.
Over in London, "There are concerns that Mr.Maduro may [then] seize the gold, which is owned by the state, and sell it for personal gain,"
The Times repeated
on Thursday, adding no further detail to (or acknowledgement of) Reuters' scoop.
"The Venezuelan government,"
claimed Russia Today
, "has been trying to reach the gold for two months" but failed because Maduro "has recently made attempts to eliminate reliance on US-controlled financial institutions and instruments, including the US Dollar" – and clearly, on RT's juxtaposition at least, that dash for freedom has met with "US penalties".
Here at BullionVault we have no special insight either, let alone un-named sources to quote. But for what it's worth, Venezuela, you will recall, is a true socialist success story
For every 100-worth of today's Bolivars its economy produced back in the year 2000, it now produces 3.4 billion. Next year that will rise to 310 trillion on the International Monetary Fund's forecast.
Outside the Bolivar Soberano however, success looks a bit different. Compare and contrast in US Dollar terms for instance.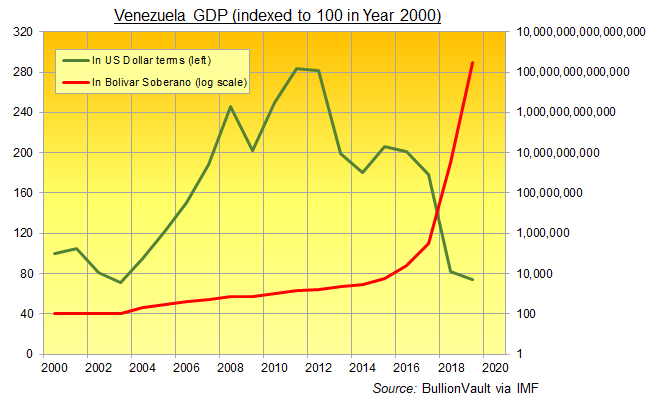 "We will not reward firing squads, torturers, and murderers," said US president Donald Trump's national security advisor John Bolton with a straight face last week, adding to the
long list of sanctions
started way back in 2014 and failing to say anything about Saudi Arabia's war in Yemen or torture and
murder of a journalist
in Turkey (but he
did then threaten
more sanctions against Saudi enemy – and murderous regime – Iran).
As for the Bank of England, it has a long history, if not memory. And if the Old Lady really is refusing to ship its custodial client's gold to Maduro, the Bank may be trying to atone for its shameful behaviour over Czechoslovakia's gold in spring 1939.
David Blaazer, now Associate Professor in the history of economic thought at the University of New South Wales,
picked up the story
a decade ago:
"On 19 May 1938, the Financial News and the Daily Telegraphreported that gold to the value of about £6,000,000 in the name of the Bank for International Settlements had been transferred [by the Bank of England] to the ownership of the German Reichsbank. As both papers pointed out, the transfer had taken place despite the fact that the government had moved to block all Czech assets held in the United Kingdom within 24 hours of the German invasion of Czechoslovakia on 15 March.

"The ensuing controversy became one of the major British news stories of the middle of 1939 [and] cast serious doubt over whether the Chamberlain government had truly changed its policy towards nazi aggression in the light of the invasion of Czechoslovakia, or whether it was using the secretive channels of finance to continue to appease Hitler."
Whatever was the Old Lady thinking?