This is What Retail Investors Did with GE This Year as it Plunged
This is What Retail Investors Did with GE This Year as it Plunged by Wolf Richter – Wolf Street
Lured by the siren song of a "buying opportunity" and a fat yield.
GE shares plunged another 10% this morning to a low of $8.15 before recovering a little. They're now a big step closer to the Financial Criss low of $6.66, which had been the lowest since the early 1990s. And for most of the year, retail investors – as measured by clients of TD Ameritrade – were net buyers of GE and bought the dips, lured by the Wall Street siren song of a "buying opportunity" and a fat dividend yield.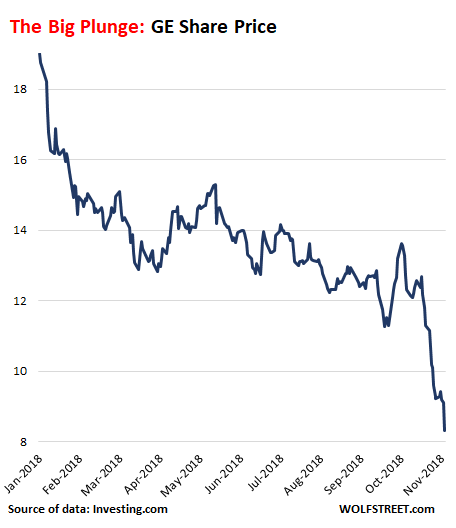 But that sacred dividend was unceremoniously slashed a second time while people were distracted by Halloween, to a penny this time, and the fat dividend yield suddenly is near-nothing. GE, which lost $23 billion in the third quarter based on a huge write-off, is in the process of dismantling itself to deal with its debts and stay alive, after "unlocking value" by blowing and wasting $152 billion in mostly borrowed cash since 2013 on buying back its own shares.
It now is buckling under $263 billion in liabilities, not counting any off-balance-sheet liabilities. Its accounting is being scrutinized by federal authorities, GE disclosed. And there are fears that some unknown unknowns might emerge. GE has been shedding divisions and assets to shrink itself to health, and as it is dismantling itself, there are fewer business units available to generate cashflow to pay for this debt.
These liabilities are so huge in comparison to its remaining assets that when the $79 billion in "goodwill" and "other intangible assets" are excluded from its assets, GE is left with what we call "tangible equity" of negative $31 billion. In other words, this former icon of American industrial innovation and strength has been gutted by share buybacks. GE would be OK-ish today, if it had not wasted $152 billion on monstrous share buybacks to "unlock value" to please activist shareholders and Wall Street.
The plunge-du-jour has been triggered by a brutally hype-free note by JPMorgan Chase analyst Steve Tusa, which he accompanied with a cut in his share-price target to $6, the lowest among Wall Street analysts.