Strange Anomalies About Official Story Involving Cesar Altieri Sayoc, Jr
Strange Anomalies About Official Story Involving Cesar Altieri Sayoc, Jr By Susan Duclos – All News PipeLine
Pipe-Bomb Suspect Has Long Criminal History Including Threatening To Blow Up Utility Company In 2002
A Florida man has been taken into custody for the recent slew of "pipe-bomb" devices that have been sent to a number, 12, prominent liberal figures. A look into his history shows a history of criminal arrests and convictions dating back to the 1990s.
His name is Cesar Altieri Sayoc, Jr. A Native American living in Aventura, Florida, but was arrested in Plantation Florida.
The media will tell their audience that Sayoc is a Trump supporter, and if the stickers on his van are any true indication, that is correct, but what they are downplaying is the suspect, whether convicted of this crime or not, has a long arrest history, because that detracts from the liberal media preferred narrative of blaming President Trump for Sayoc's alleged actions.
In 1990, according to Florida's local ABC10 News, Sayoc was convicted in Broward county for Grand Theft and stolen property charges.
In 2002 Sayoc was arrested in Miami Dade County for a threat to "throw, place, project or discharge any destructive device," while on a phone call with Florida Power & Light utilities company, telling them "It would be worse than September 11th." Court records show he was sentenced to a years probation.
In 2004 Sayoc was charged and convicted on a felony charge of fraudulent refunds and a misdemeanor charge of tampering with physical evidence.
The Daily Caller points out Sayoc started a business in 2016 called "Native American Catering & Vending," and that his "social media accounts suggest that he claims membership in the Seminole tribe. His biography on a Twitter account he operated listed him as an events manager at the Seminole Hard Rock casino."
We also know Mr. Sayoc attended Trump rallies after Donald Trump announced his candidacy in 2015.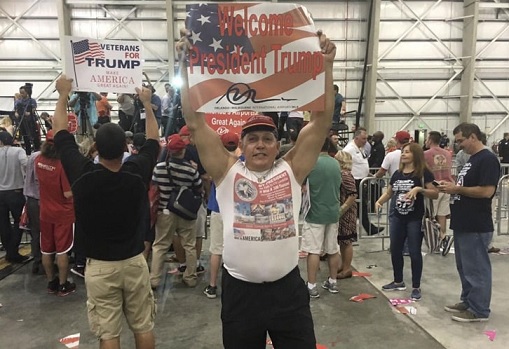 Make no mistake, Sayoc being a Trump supporter has nothing to do with his threats of blowing things up as his 2002 charge and conviction proves, despite what they media claims when they attempt to blame president Trump for the alleged acts of terrorism.
SOME INCONSISTENCIES WITH OFFICIAL STORY
Those are the facts we know so far about Cesar Sayoc.
These next set of images would have been included into those facts, if it weren't for something very unusual and utterly bizarre that Stefan Stanford highlighted to me as I was writing this piece.
The van believed to belong to Mr. Sayoc, which was impounded by authoritIes after covering it up with a tarp to "preserve evidence," all shows a ton of stickers on the van. On the sides are a number of pro-Trump images, anti-Clinton, anti-Soros, etc….
Coincidentally, before Sayoc was arrested and his van impounded, someone in Florida found the van's stickers and markings to be noteworthy enough to capture two images of it, one of the side of the van, one of the back windows.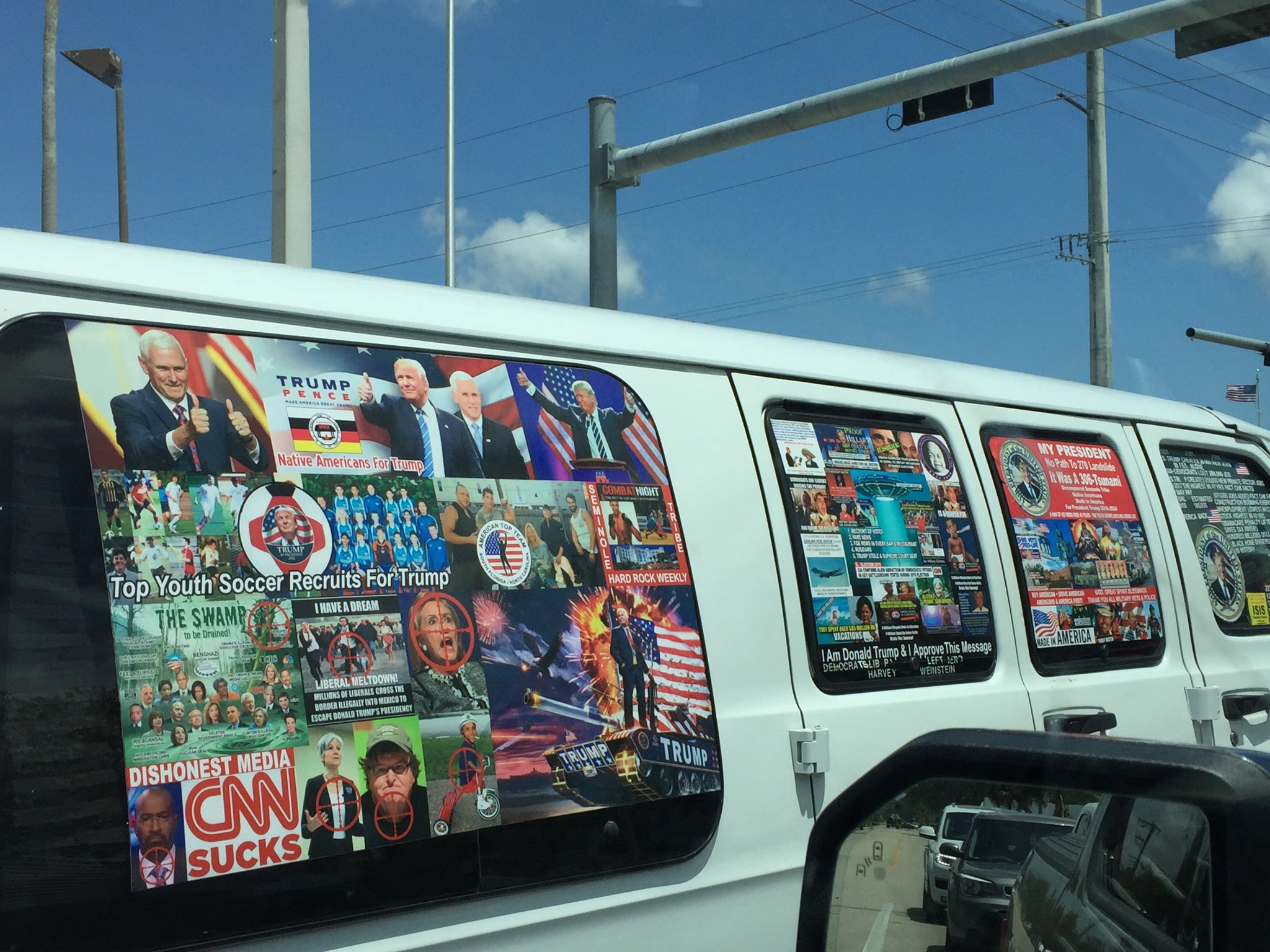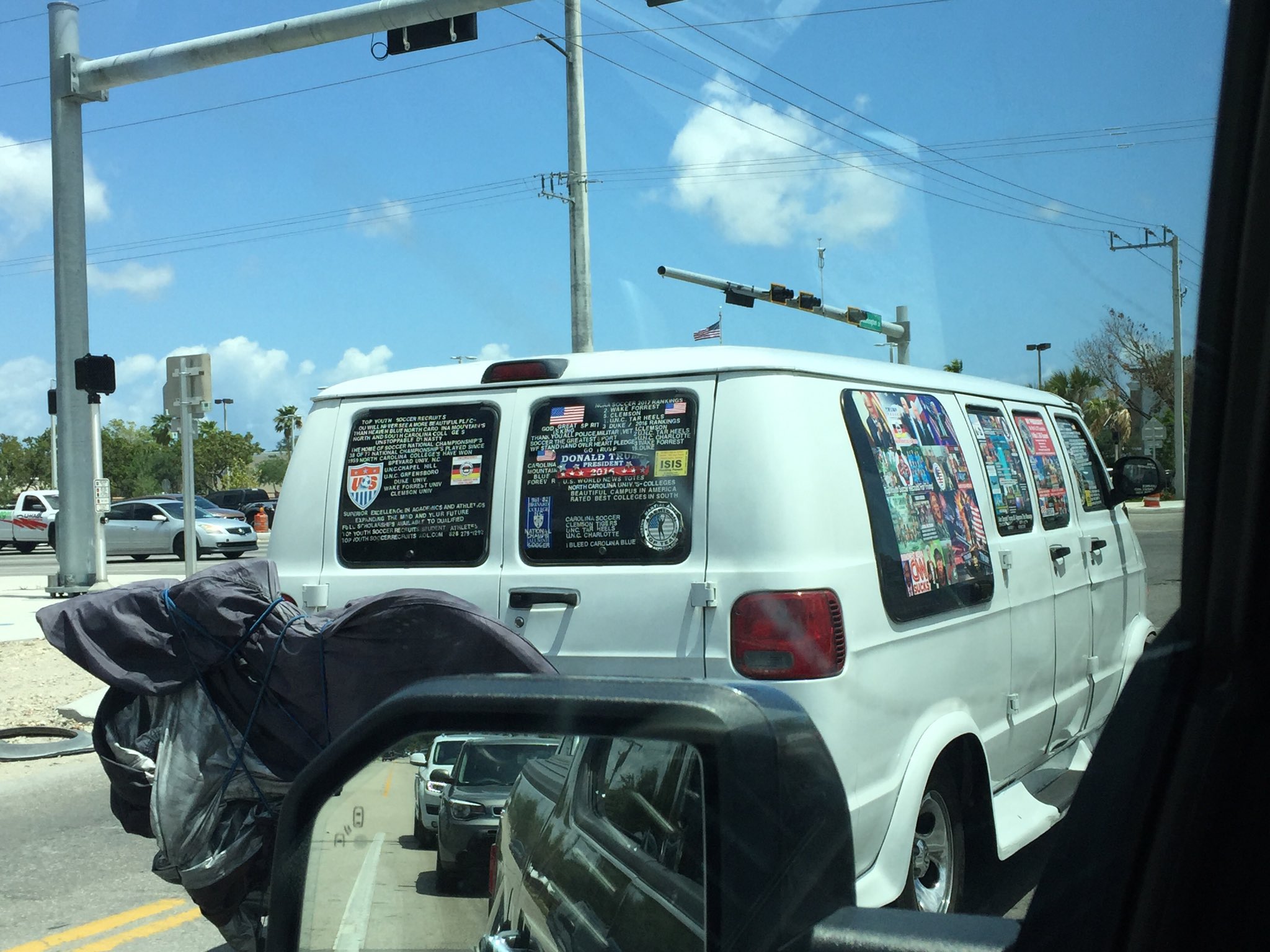 (Images above from JimHeathTV)
As can be seen from the angle of the images above, these were taken, at an unknown time, of the
right side
of the van and the back of the van.
Next we look to the media's pictures of the van, all apparently of the left side and the back of the van….. please note the back windows and see if you notice anything a bit…… strange.