Houston Rally Is The Perfect Example Of Why The Media Hates President Trump
Houston Rally Is The Perfect Example Of Why The Media Hates President Trump By Susan Duclos – All News PipeLine
– The More The Media Slams The President, The More His Supporters Love Him
Throughout 2017, into 2018, right up until October 2018, the establishment media coverage of President Trump has remained 90 percent or more negative against him, his supporters and his agenda, according to MRC studies throughout the Trump presidency.
Despite the consistent and hostile coverage by the establishment media, rallies that include the president continue to grow bigger, more energized, as his approval numbers continue to rise, to levels that match two-term presidents, with other polling showing his approval is higher than many other presidents at the same time in their presidency, including Barack Obama.
President Trump's approval rating before the November elections has jumped to a higher level than former President Obama's ahead of the 2010 midterms, according to a new NBC/Wall Street Journal poll.

The poll found Trump's approval rating at its highest level for that poll yet, at 47 percent. Obama's approval rating was 45 percent around the same time in 2010, according to a similar NBC/Wall Street Journal poll taken in late October 2010.
Yet the media continues to refer to President Trump as an "unpopular" president, and they wonder why the populace has stopped putting any stock in their assertions.
As John Nolte at Breitbart points out, President Trump is a lot more popular than the media want you to believe.
A look at the rally slated for Monday in Houston Texas, where president Trump is speaking in support of Texas Senator Ted Cruz, who is up for reelection, is the perfect example of 1) How popular President Trump is;  2) Why the media doesn't even try to hide how much they hate him anymore, and 3) Why the American people distrust the media.
HOUSTON- FIRST EVER TAILGATER FOR A MAGA RALLY
Consider this: In a non-presidential election year, this rally was originally schedule to be held at the NRG arena, which holds about 8,000 people. The response was so overwhelming, the location had to be moved to the 19,000 seat Toyota Center. Yet 100,000 tickets were requested, with people lining up over 24 hours ahead of time.
Rather than disappoint so many, the Trump campaign went to work, with Brad Parscale, Trump's 2020 campaign manager, announcing on October 21, that he flew in early with his team to set up the first ever "tailgater", with food trucks, live music and more!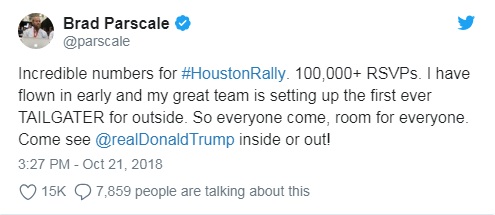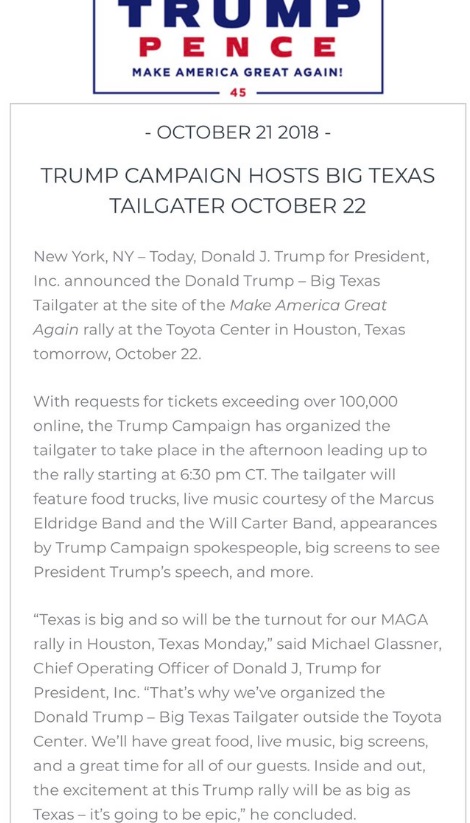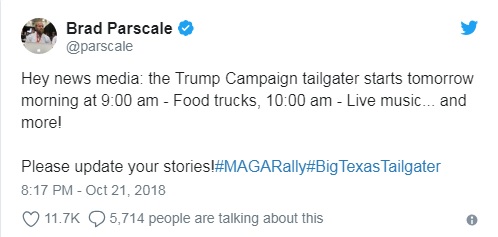 It is that personal touch, that desire to adjust to demand to keep supporters happy that rally-goes appreciate.
Reports and images coming out show the lines are stretching for blocks, the energy is high, the excitement is real. These are the images and the "news" the media ignores, downplays, while they continues to drone on about how "unpopular" the President is.