Mob Attacks & Threatening Business Owners Are All Just 'Collateral Damage' In Liberals Quest For Power
Mob Attacks & Threatening Business Owners Are All Just 'Collateral Damage' In Liberals Quest For Power By Susan Duclos – All News PipeLine
Browsing the news this morning I noted a number of articles detailing attacks against conservatives, something we are seeing almost daily as the Breitbart Rap sheet of media approved harassment, threats, and attacks now tops 600 examples, all encouraged and incited by Democrat politicians, along with their media cohorts, in the quest to obtain more government power for liberal politicians.
LIBERAL MOB BEHAVIOR INTENSIFIES
In Nevada a democrat operative, Mike Stark, was arrested after physically assaulting a female campaign manager for gubernatorial candidate Adam Laxalt.
"I could not move," Davidson said in her statement to police, which was shared with the Free Beacon. "Stark grabbed my right arm, twisted it behind my back, squeezed it very hard, and every time I tried to pull away he pulled me closer and gripped my arm tighter."

"I kept screaming help me, stop hurting me, you are hurting me," she wrote. "Stark would not stop and grabbed my arm tighter and pulled me closer to him and the door. I was terrified and at that point saw multiple colleagues try to pull him off me but Stark held tighter."
The campaign shared images of bruising on Ms. Davidson's arm, also detailing injuries to her neck, shoulders and lower back.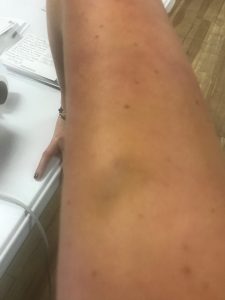 (Image- Laxalt Campaign)
Stark was following the Laxalt campaign around, and is an operative for David Brock's (Media Matters founder) American Bridge 21st Century super PAC (Soros funded) . Stark also has a history of physically assaulting female conservatives, as documented at Free Beacon:
Stark has a history of aggressive behavior when tracking Republicans. Last year he was arrested, and later convicted, for disorderly conduct in Virginia as he attempted to cover Republican gubernatorial candidate Ed Gillespie, according to the Washington Post. Stark was similarly arrested back in March after pushing a female staffer for Interior Secretary Ryan Zinke to the floor and was charged with simple assault by U.S. Capitol Police.
A description by the campaign regarding this attack against Davidson, provides a clear look into the mob-like behavior of Democrat operatives in today's political climate.
"After an education rally, a large male liberal operative began chasing members of the Laxalt campaign and the Attorney General, getting physically aggressive to push himself onto staff. When the team entered a side room and closed the door, the man pushed the door open—trapping Kristin in the doorway, grabbing her arm, and forcefully twisting it behind her back and squeezing. She screamed, "You're hurting me! Stop hurting me!" but he would not stop and grabbed her arm tighter—creating painful bruises and straining her neck, shoulder, and lower back. The man would not relent and screamed: "You can make this stop, Adam." Kristin was terrified and begged for him to stop and could not get free until Las Vegas City Marshals intervened. They arrested him, and while Kristin's head, neck, and arm were throbbing with pain, they took him to the Las Vegas City jail."
A large man, holding a much smaller woman, twisting her arm behind her back while she is screaming that he hurting her, looking at the Republican candidate and saying "You can make this stop, Adam." Sounds like it came directly from a gangster movie script.
This is the perfect visual of what the liberal Democrat party has become today.
Another story detailed by multiple websites, including The Hill, Free Beacon and City Pages, shows that Minnesota State Rep. Sarah Anderson was attacked after she stopped her car to tell a self-proclaimed "anarchist" that he shouldn't be kicking over political signs legally placed along the roadway. After informing her that he could do what he wants because he is an "anarchist," he then backed her into the roadway. She managed to get back to her car, then noted he walked over to a gas station, where she managed to get a picture of him as he started charging at her again, saying he punched her in the arm.
She spoke with local news reporters to describe the attack, shown below.
The next story I saw while browsing the Internet, was about another Republican Minnesota House candidate, Shane Mekeland is recovering from a concussion after he was attacked and "blindsided"  as he was speaking to patrons at a restaurant and bar.
According to the Star Tribune, the suspect, who has not been named publicly yet, admitted to assaulting Mekeland without provocation, and the police were "awaiting medical reports and surveillance footage," as part of their investigation. No arrest has been made yet.
-->