Chelsea Clinton Educates Us on Being "Un-Christian"
Chelsea Clinton Educates Us on Being "Un-Christian" by Rory – The Daily Coin
I think I will take Mother Teresa's version of Christianity over the clinton crime families version of what is Christian or 'un-Christian'. Their version of 'un-Christian' fits well with the current Pope telling President Trump 'walls are not Christian'. Below is a view of the wall that surrounds the Vatican. You know, where the Pope lives. Looks pretty secure to me and like it would keep undesirables out. I presume it is very Christian, however, we should ask the Pope to confirm.

image/nowtheendbegins.com
"Any country that teaches abortion is not teaching the people to love, but to use any violence to get what they want. That is why the greatest destroyer of love and peace is abortion." ~ Mother Teresa – Source
When Chelsea Clinton isn't wishing the Church of Satan a Happy New Year or wearing an upside-down satanic cross she is busy reminding you how "un-Christian" you are for not supporting mothers murdering their own children in the womb. The left has become so unhinged that murder is now worthy of a standing ovation, wild applause and, my personal favorite, claiming to be "reproductive health". It would be impossible to find more Orwellian speech than "reproductive health" to describe murder. Chelsea Clinton actually stated that a return to pre-Roe would be 'un-Christian'.
Here is a variety of images showing Chelsea sporting her upside-down cross. You know, to show the world what she believes and to whom she allied.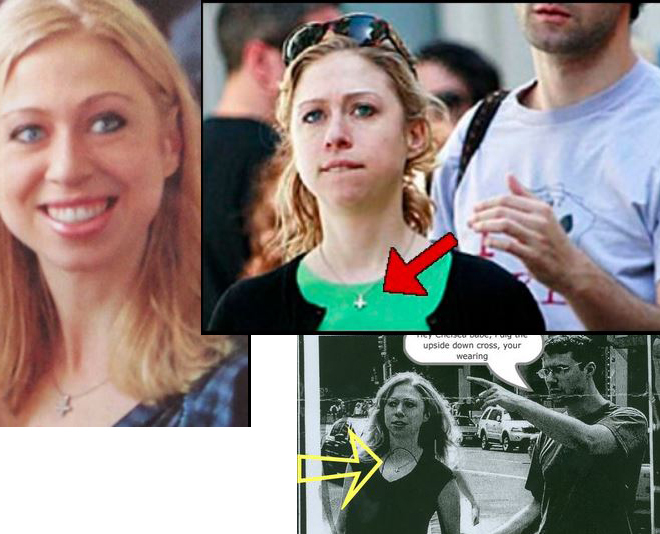 Chelsea Clinton on Wednesday denied that she practices Satanism after a Trump supporter on Twitter took the former first daughter's exchange of New Year's wishes with the Church of Satan to mean she was affiliated with the group.

"I'm a Methodist & my husband is Jewish, thank you for asking," Clinton responded to the woman.
Oh goodness gracious. We can be civil, cheerful, respectful to & friends with people who don't share our religious beliefs. Sometimes, we even marry them. I'm a Methodist & my husband is Jewish, thank you for asking. A very happy New Year to you Rhonda! https://t.co/8UH9SP8EWO

— Chelsea Clinton (@ChelseaClinton) January 3, 2018
After Clinton and model Chrissy Teigen were tagged in a Twitter thread with the account for Hooters restaurants, Clinton responded, "In 2017, @ChurchofSatan & I were put on a few threads together. In 2018, it's… @Hooters. What a time to be alive Chrissy!"

The Church of Satan saw the tweet and wished Clinton a happy new year.

Far-right activist Jack Posobiec shared a photo of the exchange, prompting Twitter user named Rhonda Kazmierski to express appreciation for Clinton's openness about "worshipping" Satan. Source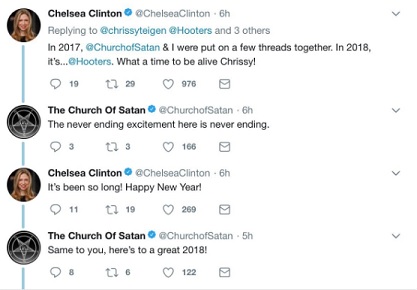 It's funny that someone that openly welcomes the enemy to the table would have the guts to tell people they are "un-Christian" for any reason. This is the latest piece of evidence showing how deeply flawed the clinton crime family has become. The criminality has spread to open displays of unholy behavior, symbols and well wishes to the enemy of humanity.
Now, in her latest sign that she will be going into the family business and becoming a member of the fascist / communist government being spread by Cortez, Sanders and a growing number of radical communist, we find Chelsea "preaching" against Judge Kavanaugh. The leftist are terrified the balance of power at the highest level is about shift away from so-called "progressive, liberals" and the "silent majority" will once again have a voice of sanity to speak for them.
"Any country that teaches abortion is not teaching the people to love, but to use any violence to get what they want. That is why the greatest destroyer of love and peace is abortion." ~ Mother Teresa – Source
These people need help and it may take divine intervention to make a real difference.
As we have gathered here to pray together, I think it will be beautiful if we begin with a prayer that expressed very well what Jesus wants us to do for the least. St. Francis of Assisi understood very well these words of Jesus and His life is very well expressed by a prayer. And this prayer, which we say every day after Holy Communion, always surprises me very much, because it is very fitting for each one of us. And I always wonder whether 800 years ago when St. Francis lived, they had the same difficulties that we have today. I think that some of you already have this prayer of peace – so we will pray it together.

Prayer of St. Francis

Lord, make me a channel of Your peace. where there is hatred let me sow love, where there is injury let me sow pardon, where there is doubt let me sow faith, where there is despair let me give hope, where there is darkness let me give light, Where there is sadness let me give joy. O Divine Master, grant that I may not seek so much to be consoled as to console, as not to be understood but to understand, not to be loved but to love. Because it is in giving that we receive, it is in pardoning that we are pardoned, and it is in dying that we are born again to eternal life.

Let us thank God for the opportunity He has given us today to have come here to pray together. We have come here especially to pray for peace, joy and love. We are reminded that Jesus came to bring the good news to the poor. He had told us what that good news is when He said: "My peace I leave with you, My peace I give unto you." He came not to give the peace of the world which is only that we don't bother each other. He came to give the peace of heart which comes from loving – from doing good to others. Source
Maybe I just don't understand and maybe I just need to love Chelsea a little more. Not sure what the answer is, but I know what Chelsea Clinton is saying seems to go against everything that is moral and good.