'Tick Tock' Something Big About To 'Blow This All Out Of The Water'
'Tick Tock' Something Big About To 'Blow This All Out Of The Water' – An Attack Against America From Within Is Happening Right Before Our Eyes By Susan Duclos – All News PipeLine
America is under a massive attack, coming from multiple directions. All of these attacks have two main goals for an endgame: 1) Overthrowing a duly elected President, and; 2) destroying his supporters.
From the Mueller appointment as special counsel, to the train-wreck of the Manafort trial where prosecutors are getting their butts handed to them by a judge that has no patience for their antics, to the media attacks and demonizing of half the nation's citizens.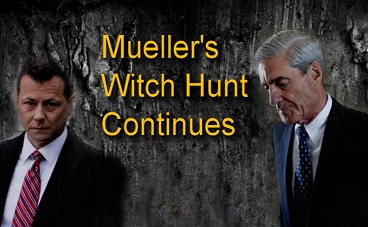 THE MUELLER APPOINTMENT
Unless one has been living under a rock, it is well known that Robert Mueller was appointed as special counsel to probe whether there was any collusion between Russia and the Trump campaign during the 2016 election. What has come out since Mueller's appointment is that senior members of the FBI plotted to, first, keep Donald Trump from winning the 2016 election, and second, arrange for an "insurance policy," in the event he did win, to overthrow the duly elected president.
Back in December 2017, Wall Street Journal detailed exactly what that "insurance policy" was in reference to.
An FBI agent's reference to "an insurance policy" in a much-debated text message was meant to convey that the bureau needed to aggressively investigate allegations of collusion between Donald Trump's campaign and Russia, according to people familiar with his account.

The agent didn't intend to suggest a secret plan to harm the candidate but rather address a colleague who believed the Federal Bureau of Investigation could take its time because Democratic presidential nominee Hillary Clinton was certain to win the election, the people said.

The text was one of many that have recently emerged in which FBI Agent Peter Strzok and FBI lawyer Lisa Page disparaged Mr. Trump, calling him an "idiot" and "loathsome human," among other things. Republicans have cited the texts as evidence of bias. Sen. Chuck Grassley (R., Iowa), who chairs the Senate Judiciary Committee, wrote the Justice Department: "Some of these texts appear to go beyond merely expressing a private political opinion, and appear to cross the line into taking some official action to create an 'insurance policy' against a Trump presidency."

Mr. Strzok was the lead agent on the FBI investigation into Mrs. Clinton's use of a private email server while secretary of state. Until late July, he was also the top investigator in special counsel Robert Mueller's office, but Mr. Mueller removed him after learning of the texts.
So the FBI had a back up plan in the event that Donald Trump won the 2016 president election, which he did.
Then former FBI director James Comey, admitted in front of congress that he shared his memos of his meetings with President Trump with a friend, the sole goal being to have his friend "leak" the content of the memos to the press, in order to spur the appointment of a special counsel.
Sure enough, voila! A special counsel was appointed to investigate the "insurance policy," which what is now the Russia probe.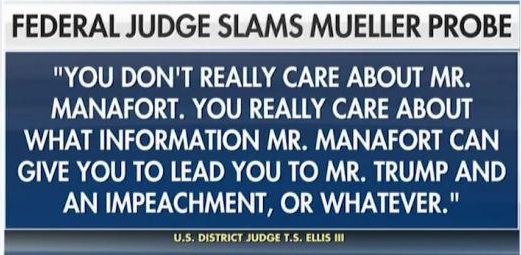 THE MANAFORT TRIAL – HANNITY WARNS 'SOMETHING BIG IS COMING'
One of the highest profile cases that has stemmed from the Mueller investigation is the charges against Paul Manafort, who was part of the the Trump presidential campaign from March 2016 to August 2016.
Mueller was able to indict Manafort with charges of conspiracy against the United States, conspiracy to launder money, failure to file reports of foreign bank and financial accounts, being an unregistered agent of foreign principal, false and misleading FARA statements, and false statements, all of which occurred over a decade ago. None of the charges against Manafort are in any way related to the 2016 election, nor President Trump.