Twitter Busted & Blasted, Facebook Stock Plunges – Big Tech Has A Very, Very Bad Week
Twitter Busted & Blasted, Facebook Stock Plunges – Big Tech Has A Very, Very Bad Week By Susan Duclos – All News PipeLine
– Some might call this Karma.
Technically it was Wikipedia that falsely listed Senator Orrin Hatch as having died on September 11, 2017, but Google uses Wikipedia, as does Google's YouTube video platform, as some type of "authority," so by virtue of automatically showing Wikipedia in their knowledge panel when users utilize their search function, they must accept the responsibility when the information given is false.
On July 23, 2018, Senator Hatch's official Twitter account sent a message and a screen shot of what came up on Google as a result of searching for Hatch, to Google's Twitter account. The message simply said "Hi.. @Google?
We might need to talk."
The image Hatch's staff attached is shown below: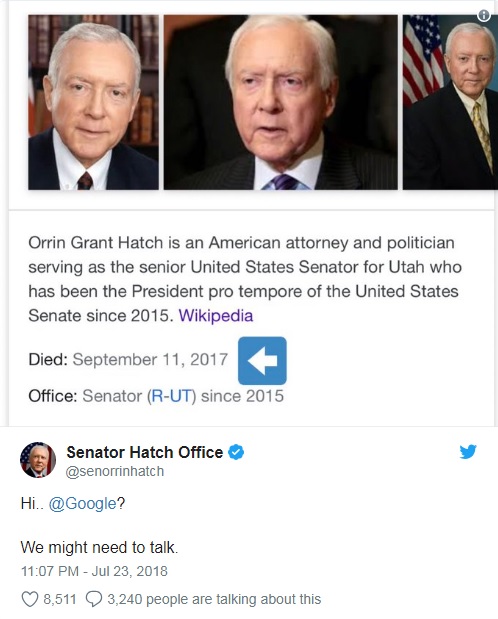 Google Communication's account immediately responded with "You certainly are alive and sporting a great sense of humor. We apologize for the error. We'll have it fixed shortly." Which they did. Hatch's office spent the day having a little fun with it by proving that Senator Hatch was alive and well, showing images of him reading newspapers, signing bills and out at public events.
No harm done, but the fact that Google continues to use Wikipedia is problematic for the tech giant, as this is not the first time the company has been publicly humiliated by their practice of using Wiki so prominently as their source of information. Back in late May 2018, when users searched Google for California Republicans, the knowledge panel informed them that the CA GOP's ideology was "Nazism." This happened as California was getting ready to hold statewide primary elections.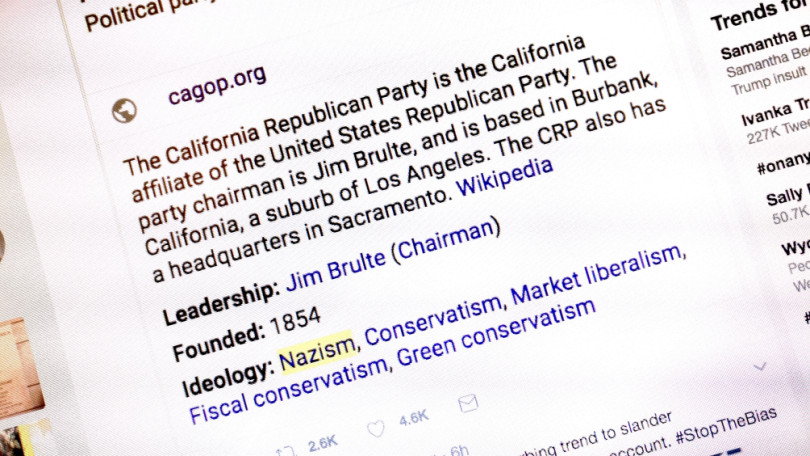 Google blamed Wikipedia "vandalism" for the information, yet Google continues to use Wikipedia.
They may wish to rethink that decision as recent reports show that Wikipedia has now listed former congressman Ron Paul and current congressman Steve King as "American White Supremacists," alongside "cult leader Charles Manson, American Nazi Party founder George Lincoln Rockwell, convicted mass murderer Dylann Roof, and former Ku Klux Klan Grand Wizard Don Black," as Breitbart reported on July 25. (The Wiki page was saved using Archive.is)
TWITTER BUSTED AFTER LIBERAL SITES PROVE THEY ARE CENSORING CONSERVATIVES
After years of liberals claiming that conservative complaints about being shadow banned and censored by Twitter and other social media platforms was just a "conspiracy theory," it is quite ironic that two liberal websites exposed yet another way Twitter has found to censor conservatives.
Gizmodo and Vice News, both reported that Twitter was limiting the visibility of prominent Republicans, such as the Republican Party chair Ronna McDaniel, several conservative Republican congressmen, and Donald Trump Jr.'s spokesman, and others. Vice took it a step further and checked to see if it was happening to high profile Democrats as well.