'Never Trump' Republicans, Are As Bad As Radical Left
'Never Trump' Republicans, Are As Bad As Radical Left By Susan Duclos – All News PipeLine
We have documented some pretty despicable behavior on the part of  #Resistance members, the liberal media, and the "celebrity" class, from death threats and physical violence against Trump supporters, to threatening President Trump's youngest child Barron, to openly calling for mobs to harass Trump administration officials… now, once again, we have yet another member of the media, deliberately targeting children in a vile attack against a father.
USA Today columnist and and frequent TV pundit, Cheri Jacobus, was in a Twitter dispute with Republican consultant and Trump ally Michael Caputo. In the midst of the two trading harsh barbs with each other, Jacobus stepped way over the line by going after Caputo's children, stating "Are your daughters ugly like you? Or can Trump use them at the Epstein parties so they can survive when you're broke, bitter, along [sic] and in prison for treason?"
The reference to Epstein is about Jeffrey Epstein, a Bill Clinton mega-donor, who was convicted of soliciting sex from an underage girl. Epstein has also been accused of recruiting underage girls into a sex slave network, run from his Caribbean island, known as "Orgy Island."
The tweet quoted above was not the only reference Jacobus made about Caputo's children, as she also brought up his daughter by asking him "your illegitimate daughter contemplating the pavement because her loser dad is a traitor?  Keep it up."
When another user stepped in and took her to task, then suggested she leave the children out of it, she then responded by saying "Ask Caputo about Toy Moore. Then ask him why he drags his daughters into the public stage and uses them to help him beg for money so he can afford his vacation home. He's whoring out his own daughters."
Caputo then took a screen shot of Jacobus original Tweet referencing Epstein and Caputo's daughters, and tweeted it to USA Today, stating "@usatodayopinion I'm sure it's totally normal for one of your columnists to Tweet suggesting the rape of toddler girls. Right?"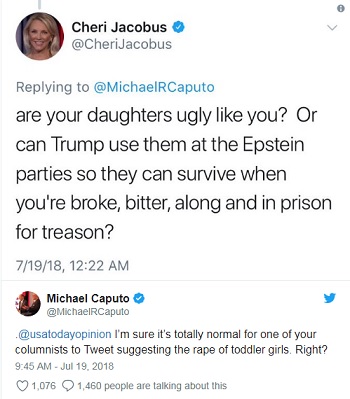 USA Today immediately investigated and within an hour had notified Jacobus she would no longer be writing for USA Today, and told her to promptly remove their name from her bio, according to TheWrap:
"Our editors in the opinion section became aware of the tweet by freelance columnist Cheri Jacobus just after noon today," a spokesperson for the company told TheWrap Thursday evening.

"An hour later after researching the issue, our editors let Jacobus know that she would no longer be writing for USA TODAY," the spokesperson added. "We have asked her to remove the USA TODAY affiliation from her bio."

By Friday morning, Jacobus — who once proudly boasted of her affiliation with USA Today in her Twitter profile — had removed any mention of the paper.
Note – According to Breitbart, "Prior to this, Jacobus was most famous for losing a $4 million lawsuit she filed against President Trump for calling her a 'real dummy'."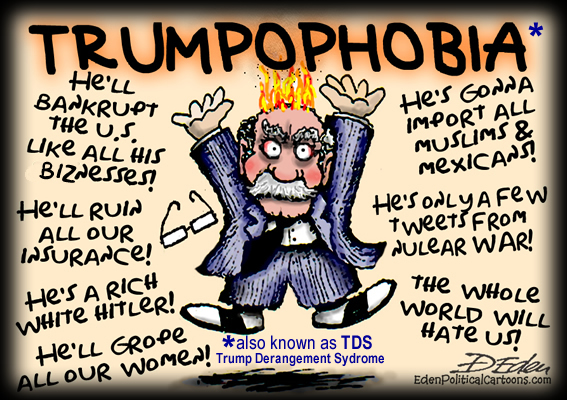 THE 'BASKET OF HATERS'
What party do readers think Jacobus belongs to? If your first response was Democrats…… you would be wrong.
She is another faction of the party of hate, a NeverTrumper. NeverTrumpers are so-called establishment "conservatives," that are so hell-bent on hating and opposing anything and everything about President Trump because the Republican base refused to let them influence them in the 2016 presidential primaries and election, that they now mimic the talking points, and as evidenced above, the behavior of the liberal #Resistance movement members.