'Unmasking Antifa Act Of 2018'
'Unmasking Antifa Act Of 2018' Proposal Has Liberals Up In Arms – The Constitution Does Not Guarantee The Right To 'Violently' Protest By Susan Duclos – All News PipeLine
There are a long list of so-called Antifa groups that go by many names, but they have one thing in common. They claim to be "anti-Fascists," (ANTIFA) but they use fascist tactics to suppress the free speech of others if they disagree with it, by labeling their victims "fascists." Another commonality many of these groups have is they feel that violence is an acceptable tactic to prevent others from their constitutionally protected right of free speech.
For example the group By Any Means Necessary (BAMN), has had one of it's most prominent organizers Yvette Felarca, declare that violence against the far right is "not a crime." Felarca has been arrested and is facing charges of inciting a riot.
Flashback, September 2017:
By Any Means Necessary, which has played a key role in riots in Berkeley, Sacramento and elsewhere, has dozens of public school teachers among its members, including among its most prominent leaders.

The FBI and Department of Homeland Security began paying closer attention to Antifa groups in general after BAMN and other extremists started a riot and attacked marchers at a white nationalist rally in Sacramento last July, Politico reported on Friday. The Sacramento violence left at least 10 people hospitalized, several of whom had knife wounds.

One of BAMN's most prominent organizers is Yvette Felarca, a Berkeley middle school teacher and pro-violence militant. Felarca currently faces charges of inciting a riot for her role in the Sacramento violence.
Another example if a group called "It's Going Down," who have openly called for violence against Trump supporters.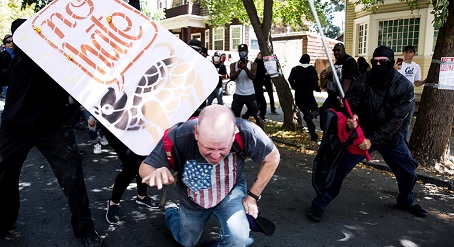 Another thing many of these groups have in common is they show up to protest events held by conservatives, such as the more recent example of the Patriot Prayer Rally, which resulted in yet another riot in Portland, Oregon, after these Antifa members showed up wearing black clothing and face masks, then attacked prayer rally attendees.
In early 2017, Antifa groups inflicted over $100,000 in damages to US Berkeley.
The protesters set fires and smashed windows on the UC Berkeley campus to disrupt a scheduled appearance by Milo Yiannopoulos, a far right writer. His sold-out appearance was canceled by the university over safety concerns. Some people who had planned to attend the speaking engagement were physically attacked. 

When the protesters moved off campus into downtown Berkeley, in addition to smashing windows and spray painting graffiti on businesses, a Starbucks was looted. 

John Caner, CEO of the Downtown Berkeley Association, said that at least 10 businesses were damaged 

According to witnesses, some of the black-clad protesters tried to intimidate bystanders who snapped photos of the destruction, slapping phones out of people's hands and pushing them away.
It is also noteworthy that the FBI and DHS, in private documents call Antifa activities "domestic terrorist activities," and have classified Antifa activities as such since 2016, according to Politico.
Here is some raw footage of an Antifa riot, deliberately organized and conducted to prevent Milo Yiannopoulos from speaking at a scheduled and sold-out event on campus.
REPUBLICANS PROPOSE THE 'UNMASKING ANTIFA ACT OF 2018'
Now Republicans in the House of Representatives have introduced the "Unmasking Antifa Act of 2018." The proposal was introduced by  Rep. Dan Donovan (N.Y.) and is co-sponsored by GOP Reps. Pete King (N.Y.), Paul Gosar (Ariz.) and Ted Budd (N.C.).
According to the text provided by the Congress.gov website, this bill is to amend title 18, United States Code, to provide penalty enhancements for committing certain offenses while in disguise, and for other purposes.