A.I. And The Rise Of 'Demon Possessed Machines' Coincides With Humanity's Descent Into The Abyss
A.I. And The Rise Of 'Demon Possessed Machines' Coincides With Humanity's Descent Into The Abyss And The Fall Of Western Values And Civilization By Stefan Stanford – All News Pipeline
In the much-too-close-to-reality TV show "Person Of Interest", two artificially intelligent 'machines' battle it out in the final few episodes of the 5 season TV show, one machine programmed to save the lives of potential victims of violent crimes and one which had been programmed to provide 'security' for 'itself' and to the government by 'eliminating' any and all potential threats to its dominance.
With both 'machines' becoming autonomous in the show, able to think, reason and act for 'itself' without human intervention, Susan Duclos and I weren't the least bit suprised while watching the show that the one A.I. 'machine' called 'Samaritan' turned downright evil, seemingly possessed, as it characterized anybody who it perceived was a threat to its 'survival' and to the corrupt government which it served as a mortal enemy to be hunted down and destroyed and many were slaughtered by its 'agents' during the show.
And while that sounds like a science fiction horror movie forever vanquished to the realm of 'impossible', as we read in this new story from Greg Hunter over at USA Watchdog and hear in the only video below featuring Steve Quayle, such a possibility is growing ever closer every day. With the ongoing rise of artificially intelligent machines and the strong possibility that such machines will be 'programmed' for much less than benevolent purposes than simply being 'human helpers', a very real potential exists that such 'machines' could become 'possessed', with numerous examples already of inanimate objects becoming possessed by evil spirits.
Coinciding with the rise and acceptance of evil all across America and the world increasingly seen in the growing demand for exorcism's from demonic possession as The Telegraph reported in this June 3rd story, Dr. Richard Gallagher, a psychologist educated at both Princeton and Yale claims demonic possession is very real and those who are seeking help for it should never be ignored. Yet how will we even know if demonic forces are somehow able to inhabit themselves into AI machines before it is way too late?
As Mysterious Universe reported back in March, according to Reverend Jim Peasboro in a book he wrote more than 10 years ago called "The Devil in the Machine: Is Your Computer Possessed by a Demon?", demon possession can be experienced by anything with a 'mind', including humans, animals and even the processor of our computers.
According to Peasboro, "Any PC built after 1985 has the storage capacity to house an evil spirit," with storage capacity seeming to make a difference, and he asserts that "one in 10 computers in America now houses some type of evil spirit."
He seems to take this all quite literally, and claims that these malicious spirits are responsible for seeping through our screens to exert their influence, which has led to much of the crime and gun violence among young people seen in the country.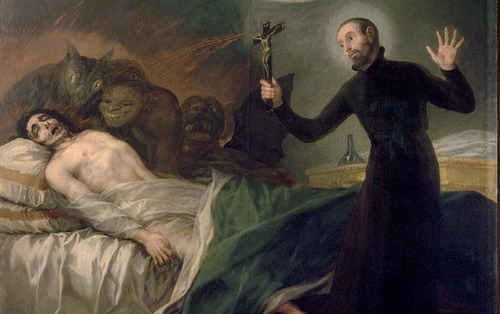 Francisco Goya's 1795 painting St. Francis Borgia Helping a Dying Impenitent
As the
Daily Mail reported in this June 3rd story
, according to Pope Francis and the Vatican, demonic possessions are on the rise due to
'easy access to satanism online
'. And while that might be what Pope Francis chocks the rise of demonic possession up to, when America narrowly avoided having a President voted into office whose
campaign manager celebrated with satanists
and who herself embraced the satanic 
philosophy of  Saul Alinsky
, we'd venture to guess that the rise in those possessed by evil in America has a lot more to do with those who have long run America (and thus the world) than specifically the internet. First,
from the Daily Mail story
:
The number of people seeking exorcism for demonic possessions is rising.
In April, the Vatican ran a training course for priests brought on by the increasing demand for exorcisms.
The clergymen were told the number of possessions was bought on by a decline in the Christian faith and easier access to Satanism and black magicthrough the internet.
Pope Francis also said that life can be 'a constant struggle against the devil' and people should 'not think of the Devil as myth, a representation, a symbol, a figure of speech or an idea.
'This mistake would lead us to let down our guard, to grow careless and end up more vulnerable'.
In the US, the number of priests that perform exorcisms has more than quadrupled from twelve to fifty in the last ten years.
Yet any real study into the rise of demonic possession would not be complete without taking a look at the decline of the Western world and Western values brought on largely by the political philosophies of liberals and globalism.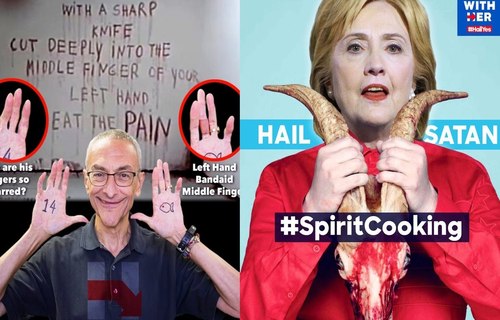 With Hillary Clinton having
written
her
1969 senior thesis titled "There Is Only the Fight…:An Analysis of the Alinsky Model"
dedicated to the philosophy taught by Saul Alinsky, it's important to remember that in his book "Rules For Radicals",
Alinsky dedicates his book to Lucifer
. Why did Hillary so admire Alinsky? Remember, Hillary and her
campaign manager
John Podesta were in the White House and at the very top levels of Democratic politics for decades. Getting the 'big' picture now?