"Blue Wave" Myth Shattered – California Primary: Democrats Narrowly Avoid Shutout in Key House Races
"Blue Wave" Myth Shattered – California Primary: Democrats Narrowly Avoid Shutout in Key House Races by Joel B Pollack – Breitbart
Democrats managed to avoid being shut out of the general election in several key congressional races in the California primary on Tuesday, as their candidates finished second to Republicans, allowing them to qualify for the November ballot — barely.
California has a "top two" or "jungle" primary, in which all candidates from all parties compete in a common pool, and the first and second place finishers advance to the general election, regardless of party. That means two members of the same party can theoretically advance to the November contest, shutting out the other party.
Democrats faced the prospects of a shutout in several Republican-held districts that voted for Hillary Clinton in 2016, simply due to a glut of candidates who split the vote between them. They faced a "disaster" or "nightmare" scenario in which they would not be able to compete for winnable congressional seats that they would need to capture if they hoped to take the 23 seats nationwide necessary to win the House majority and restore House Minority Leader Nancy Pelosi (D-CA) to the speaker's chair.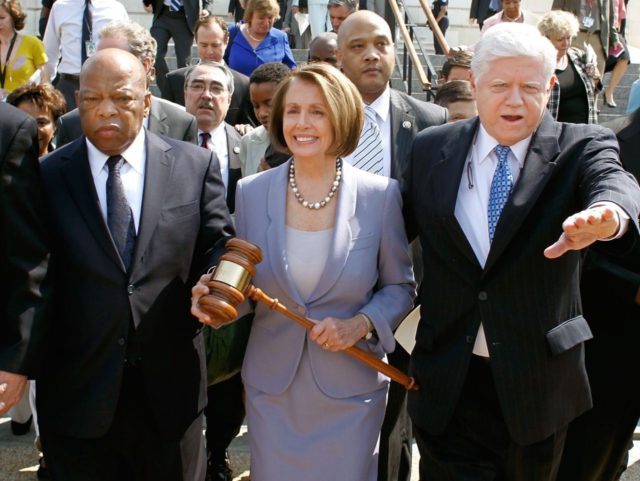 Chip Somodevilla / Getty
After spending millions of extra dollars to avoid shutouts, Democrats managed to avoid elimination in the 39th, 48th, and 49th districts.
Gil Cisneros won the right to compete with Republican Young Kim for the open seat being vacated by retiring Rep. Ed Royce (R-CA) in the 39th. Democrats Harley Rouda and Hans Keirstead both edged Republican Scott Baugh in the 18th district, guaranteeing that one of them will face incumbent Republican Dana Rohrabacher in the fall — though the two of them were separated by fewer than 100 votes as of Wednesday morning. And Democrat Sara Jacobs will face off against Republican Diane Harkey for Rep. Darrell Issa's seat in the 49th district.