Children of the Revolution
Children of the Revolution by Adrian Ash – Bullion Vault
To the golden barricades, comrade…!
The IMPACT of the French Revolution? asks Adrian Ash at BullionVault.
Two centuries after 1789, "It's too early to tell" said Chinese premier Zhou Enlai at a meeting with US president Richard Nixon in the early 1970s.
What a wag! Those bureaucrats in Beijing sure take the long view of history.
…making his comment sound much less clever.
And if Zhou had waited just a few years, he could have said exactly what May 1968 achieved in the end.
A big fat zero.
Communism collapsed, capitalism won. Even in China.
"Getting rich is glorious," said Zhou's successor Deng Xiaoping in the late 1970s (or 
maybe he didn't
).
The only big surprise today is that, while replacing pictures of Chairman Mao with 
Jack Ma
, Beijing has kept its 
totalitarian control
 of the Chinese people and politics.
As for May 1968's revolutionaries in Paris, those wannabee Maoists and anarchists were so poetic 
even their slogans wore berets
, slugged apricot cocktails and chain-smoked Gauloises.
"Beneath the paving stones, the beach…!

"Read less, live more…

"Boredom is counterrevolutionary…"
Here again, history doubles over, crying with laughter.
Because those posters – hand-printed by radical students at the École des Beaux-Arts – have become collector items for wealthy baby-boomers and their boomed-up babies.  And today's biggest 50th birthday events for les grands évènements de 1968 are a global series of exhibitions 
all leading, of course, to the gift shop
.
Why did May '68 prove such a damp squib?
"We must find a way to mobilise the workers," urged Tariq Ali – then the Oxford-educated son of Pakistani nobility and now 
a Highgate-mansion millionaire
 – in hilarious footage from 
this BBC documentary
 presented by the equally cut-glass Joan Bakewell.
Radicals both high and lower class have long wanted to get the workers to help overthrow their masters. The Levellers tried it in 1640s' England. 
Angry anarchists
 tried in the 1980s. If the revolutionaries could only get "the working class" on board, as 
one Scottish socialist told a court
 trying him for sedition in 1918, they'd be "more dangerous to capitalists than even the German enemies at your gates."
Fifty years after that, on the other side of the slaughter of World Wars 1 and 2…amid the booming welfare state built to say sorry…and with the horrors of Soviet and Maoist Communism all too clear to see…the working classes were already undergoing a revolution.
But instead of uniting to overthrow the bourgeoisie, the workers of the world rose up to join them.
People much preferred this revolution to digging up cobblestones and throwing them at the police. It offered to make everyone a little capitalist, whether saving and investing in property (your own home, maybe a buy-to-let apartment) or by owning the means of production (stocks, shares and mutual funds).
By the late 1960s, US households already 
owned almost one-third
 of the US stockmarket directly, with their retirement savings swallowing much more besides. Home ownership among British families meantime 
doubled from below 30%
 to nearly 60% by the turn of this century.
We all became bourgeois, even if ever so petite. But maybe not for much longer…and thanks to the very same boom which the May '68 generation and the children of their revolution have enjoyed.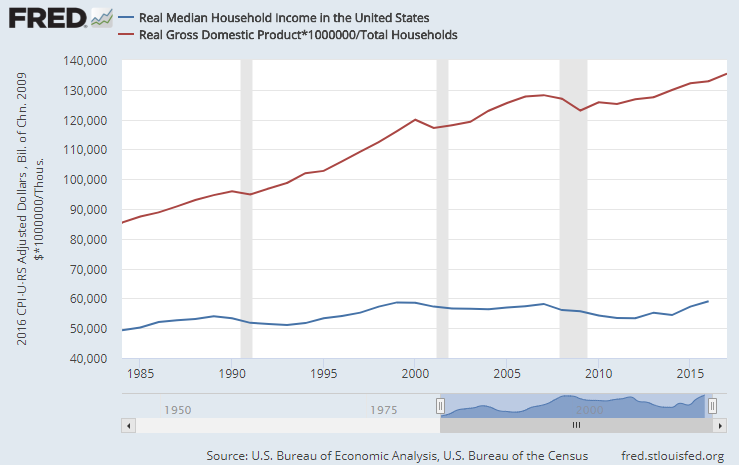 Adjusted for inflation, and divided by its total number of households, the US economy has grown by 45% over the last three decades.
How much of that growth came from the boom in financial assets, trading and profiteering we'll leave for another day. But only $1 in every $7 of that growth has actually gone to those households in terms of average income. Families right in the middle of the range have seen their real pay barely change since the turn of this century.
-->