A Liquidity Crisis of Biblical Proportions Is Upon Us
A Liquidity Crisis of Biblical Proportions Is Upon Us by John Mauldin via The Burning Platform
Last week, I mentioned an insightful comment my friend Peter Boockvar—CIO of Bleakley Advisory Group—made at dinner in New York: "We now have credit cycles instead of economic cycles."
That one sentence provoked numerous phone calls and emails, all seeking elaboration. What did Peter mean by that statement?
In an old-style economic cycle, recessions triggered bear markets. Economic contraction slowed consumer spending, corporate earnings fell, and stock prices dropped. That's not how it works when the credit cycle is in control.
Lower asset prices aren't the result of a recession. They cause the recession. That's because access to credit drives consumer spending and business investment.
Take it away and they decline. Recession follows.
The Illusion of Liquidity
Corporate debt is now at a level that has not ended well in past cycles. Here's a chart from Dave Rosenberg: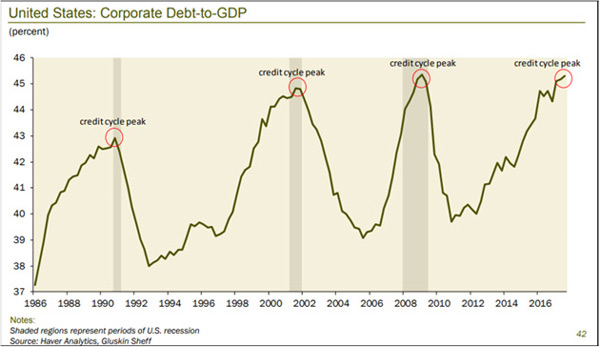 Source: Gluskin Sheff
The Debt/GDP ratio could go higher still, but I think not much more. Whenever it falls, lenders (including bond fund and ETF investors) will want to sell. Then comes the hard part: to whom?
You see, it's not just borrowers who've become accustomed to easy credit. Many lenders assume they can exit at a moment's notice. One reason for the Great Recession was so many borrowers had sold short-term commercial paper to buy long-term assets.
Things got worse when they couldn't roll over the debt and some are now doing exactly the same thing again, except in much riskier high-yield debt. We have two related problems here.
Corporate debt and especially high-yield debt issuance has exploded since 2009.
Tighter regulations discouraged banks from making markets in corporate and HY debt.
Both are problems but the second is worse. Experts tell me that Dodd-Frank requirements have reduced major bank market-making abilities by around 90%. For now, bond market liquidity is fine because hedge funds and other non-bank lenders have filled the gap.