American Patriots Push Back Hard As Backlash Against Gun-Grabbers
American Patriots Push Back Hard As Backlash Against Gun-Grabbers Escalates With 2nd Amendment Supporters Severing Ties With Anti-Gun Entities By Susan Duclos – All News PipeLine
Dick's Sporting Goods put themselves right in the middle of a firestorm after the Marjory Douglas shooting in Florida by immediately announcing they would stop selling one of the most popular modern sporting rifles, which were still being sold in their Field & Stream stores.
They also made it company policy to "no longer sell firearms to anyone under 21 years of age," and "no longer sell high capacity magazines."
Despite customer backlash, and two separate lawsuits in Oregon and Michigan, over age discrimination, Dick's then doubled down and announced they were "in the process of destroying all firearms and accessories," rather than trying to return them to their manufacturers.
In early May, Dick's then decided to make it very clear as to their anti-second amendment stance by hiring a gun control lobbyist groupto pressure Congress to push for more gun control laws, including banning what they called "assault-style" firearms, which are modern day sporting rifles, pushing for a 21 year-old age minimum to purchase firearms, even if a state's age of consent is 18, and to ban high capacity magazines.
SECOND AMENDMENT SUPPORTS SEVER TIES WITH DICK'S
Within days of the news that Dick's had hired gun control lobbyists, Springfield Armory announced they had severed ties with Dick's and its subsidiary, Field & Stream, citing Dick's "attempts to deny Second Amendment freedoms." (Facebook link to their announcement – and Article on their severing ties with Dick's for those that do not want to click a FB link)
GENESEO, IL, (05/03/18) – Springfield Armory is severing ties with Dick's Sporting Goods and its subsidiary, Field & Stream, in response to their hiring a group for anti-Second Amendment lobbying.

This latest action follows Dick's Sporting Goods' decision to remove and destroy all modern sporting rifles (MSR) from their inventory. In addition, they have denied Second Amendment rights to Americans under the age of 21. We at Springfield Armory believe that all law abiding American citizens of adult age are guaranteed this sacred right under our Constitution.

It is clear where Dick's Sporting Goods and its subsidiary, Field & Stream, stand on the Second Amendment, and we want to be clear about our message in response. Their position runs counter to what we stand for as a company. At Springfield Armory, we believe in the rights and principles fought for and secured by American patriots and our founding forefathers, without question. We will not accept Dick's Sporting Goods' continued attempts to deny Second Amendment freedoms to our fellow Americans.
Next the National Shooting Sports Foundation's (NSSF) Board of Governors unanimously voted to expel Dick's Sporting Goods from membership for conduct detrimental to the best interests of the Foundation.
On May 9, 2018, O.F. Mossberg & Sons, Inc., a leading American firearms manufacturer, sent out a press release announcing "its decision to discontinue selling products to Dick's Sporting Goods, and its subsidiary, Field & Stream, in response to their hiring of gun control lobbyists in April 2018."
Effective immediately, O.F. Mossberg & Sons will not accept any future orders from Dick's Sporting Goods or Field & Stream, and is in the process of evaluating current contractual agreements.

"It has come to our attention that Dick's Sporting Goods recently hired lobbyists on Capitol Hill to promote additional gun control." said Iver Mossberg, Chief Executive Officer of O.F. Mossberg & Sons. "Make no mistake, Mossberg is a staunch supporter of the U.S. Constitution and our Second Amendment rights, and we fully disagree with Dick's Sporting Goods' recent anti-Second Amendment actions."

Consumers are urged to visit one of the thousands of pro-Second Amendment firearm retailers to make their purchases of Mossberg and Maverick® firearms. Firearm retailers can be found through the Mossberg Dealer Locator by visiting http://www.mossberg.com/dealers/."
In order to fight back against anti-second amendment groups like Dick's, it is important to know that Field & Stream is not their only subsidiary. Other subsidiaries of Dick's Sporting Goods include Golf Galaxy, MaxFli, Chick's Sporting Goods, Blue Sombrero, Pop Warner Little Scholars, American Sports Licensing, Golf Galaxy Golfworks, Game Changer Media, DSG Finance, Galyans of Virginia, DCSG Ventures, DSG of Virginia, Dick's International Sourcing Holding, Criterion Golf Technology, DIH II Limited, and True Runner.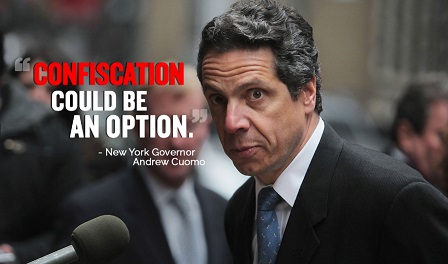 AMMUNITION GIANT CUTS OF NEW YORK AGENCIES OVER GUN-GRABBING POLICIES
New York Gov. Andrew Cuomo, via the state's Department of Financial Services, issued "guidance"  with official letters to DFS-regulated insurers and banks in the state, urging them to "examine their relationships with the NRA and organizations that promote guns to take 'prompt actions to manage these risks' when it came to protecting their corporate reputations." (Source)
Continue Reading / All News Pipeline>>>