Inflation Threatens While Risks in Stocks & Treasuries Rise (Podcast)
Inflation Threatens While Risks in Stocks & Treasuries Rise Podcast – Mike Gleason – Money Metals
Greg Weldon: Stock Market "As Overextended as Anything I've Ever Seen"
Coming up later in today's program we'll hear a tremendous interview with Greg Weldon of Weldon Financial. Greg lays out a compelling case for higher inflation later this year, the dominoes it will cause to fall, and how it will affect the average consumer, Fed policy, the stock market and precious metals. Don't miss my conversation with Greg Weldon, coming up after this week's market update.
The gold market tested the $1,300 level this week as dollar strength exerted additional downward pressure on metals prices. Gold bulls did manage to successfully defend the $1,300 key support level mid week.
As of this Friday recording, gold prices come in at $1,312, down 0.9% on the week. Silver, meanwhile, is posting a 0.4% weekly decline to bring spot prices to $16.48 an ounce.
Precious metals markets rallied modestly following the Federal Reserve's policy meeting on Wednesday. Fed officials opted to leave their benchmark interest rate unchanged while reiterating that they remain on course to gradually hike rates. Odds currently favor a rate hike at the next FOMC meeting in June.
It's been one of the most gradual and drawn out rate raising campaigns in history. It started in December 2015, which also happens to mark the bottom for gold and silver prices. Their upward moves since then have also been gradual. The persistent sideways trading range going on several months now has many metals investors frustrated and some wondering whether the Fed is putting a lid on prices.
The range bound gold market represents a sort of stalemate between interest rates and inflation. Rising real interest rates tend to be negative for gold, while rising inflation expectations tend to stimulate buying. The question that has yet to be resolved is whether the Fed's gradual rate hikes will put a damper on inflation or whether the central bank is behind the curve.
For whatever the opinion of the anointed ones is worth, Fed policymakers expect official inflation to run at close to 2% over the next 12 months. The key word in the Federal Open Market Committee's statement Wednesday was "symmetric" – as in the Fed holds to a symmetric 2% inflation target. That has been interpreted by Fed watchers to mean the rate-setting body is willing to allow inflation to exceed 2% over an extended period to offset recent periods of sub-2% inflation.
Recent Consumer Price Index and Personal Consumption Expenditures data confirm that inflation as measured by the Fed's own gauges is now running at 2%.
The risk is that in inviting inflation to rise above 2%, monetary planners will have difficulty containing upward momentum in price levels. Stocks and bonds are currently priced for very low inflation for decades to come. Investors who hold only paper assets in their portfolio have little margin for error.
Long-term Treasury bond yields recently hit 3%, giving bondholders a slightly positive real return assuming 2% inflation. That's a risky assumption to make for the next 10 years, 20 years, or even 30 years ahead.
Fed officials want us to believe that inflation will be symmetric around 2%. In reality, inflation risk is asymmetric under a fiat monetary system. There is virtually no chance of inflation moving several points to the downside in a deep deflation. The Fed simply wouldn't tolerate rapidly falling prices and would act to prevent such an outcome by any means necessary.
But the Fed has a history of getting behind the curve on inflation and chasing it higher with rate hikes. There may even come a time when it decides to raise its inflation target in order to more rapidly erode the real value of insurmountable government debt obligations. In such an event bondholders would get totally screwed.
The risk/reward potential for U.S. Treasuries is asymmetric – limited reward versus the risk of near total loss in a worst-case scenario. The risk/reward potential for precious metals is also asymmetric. Since gold and silver can't default or go to zero, downside risk is limited, especially at these relatively cheap prices. The upside potential for precious metals is multiples of where they currently trade in both nominal and real terms.
Don't expect those kinds of gains to begin accruing right away. But do expect to eventually be rewarded for buying low and sitting tight.
Well now, for more on the growing inflation story and to find out what our guest has to say about the risk/reward potential for gold, let's get right to this week's exclusive interview.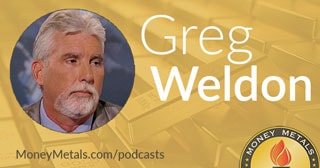 Mike Gleason: It is my privilege now to welcome in Greg Weldon, CEO and President of Weldon Financial. Greg has over three decades of market research and trading experiencing, specializing in the metals and commodity markets and even authored a book in 2006 titled, Gold Trading Boot Camp where he accurately predicted the implosion of the U.S. credit market and urged people to buy gold when it was only $550 an ounce. He's a highly sought-after presenter at financial conferences throughout the country and is a regular guest on many popular financial shows, and it's great to have him back here on the Money Metals Podcast.
Greg, good to talk to you again today and thanks for coming on.