'Journalism Took 5 Steps Back In The Wrong Direction Tonight'- Journalists Slam WHCD As 'Unnecessarily Cruel'
'Journalism Took 5 Steps Back In The Wrong Direction Tonight'- Journalists Slam WHCD As 'Unnecessarily Cruel' By Susan Duclos – All News PipeLine
As many are aware President Trump once again decided to skip the White House Corespondents' Dinner (WHCD) in favor of holding a rally in Michigan, which from the crowd reaction, was an overwhelming success as the events where he gets to directly engage with his supporters usually are, with both the president and his supporters driving the energy.
On the flip side of the coin it appears the WHCD observers, specifically other journalists, were not thrilled (understatement) with the antics of their chosen comedian, who attacked the women in the Trump administration in a manner that Politico's Congress reporter, Kyle Cheney, described as "unnecessarily cruel," saying it "Undermined an otherwise meaningful night," on an evening the White House Correspondents' Association (WHCA) "was trying to showcase decency and purpose."
A SPECTACULAR FAILURE
Considering the dinner began as a way to acknowledge White House reporters, and women were not even allowed to attend until the 1960s, the spectacle of comedian Michelle Wolf attacking female members of the Trump administration, such as White House Press Secretary Sarah Huckabee-Sanders, Counselor to the President Kellyanne Conway, and Ivanka Trump who serves as an advisor to her father, offended not just Trump supporters and conservatives, but has other liberal journalists shredding the comedian and the dinner itself.
A sample from the left-leaning NPR regarding the criticisms being leveled at both Wolf and the WHCD, from other liberal journos:
Chatter online among Washington, D.C., journalists and some in the administration's orbit after the event was full of criticismfor comedian Michelle Wolf, who was the evening's headliner; criticism and soul-searching about the annual event itself; and an effort by former White House press secretary Sean Spicer to pressure the leadership of the White House Correspondents' Association into answering for Wolf's vulgar, personal jabs leveled primarily at the president and his inner circle.

The comedian spoke for roughly 20 minutes to a ballroom full of Washington's top journalists and political operatives. As the Washington Post's Paul Farhi wrote, Wolf's remarks "swerved from raunchy to downright nasty."

"She was particularly hard on the women associated with Trump," Farhi also wrote, adding "several cracks about [White House press secretary] Sarah Huckabee Sanders landed poorly." (Courtesy of two of Farhi's colleagues at the Post, here's a list of Wolf's "harshest" jokes.) And Politico said Wolf's performance "was a risque and uneven routine at first met with laughs but often greeted by awkward silence."
Other reactions from a number of journalists from a variety of liberal outlets, captured by Twitchy, include Peter Baker, New York Times, who said "Unfortunately, I don't think we advanced the cause of journalism tonight." Ken Herman, Austin American-Statesman, responded to Baker, saying "As a former WHCA board member, I have to agree."
CNN's Jeff Zeleny, responded to Baker as well, with "Couldn't agree more. So much important and amazing journalism this year — that should be the focus, when truth matters and is needed more than ever. It was an embarrassment in the room and surely to the audience at home."
There is a strong argument against his assertion that there was "amazing journalism this year," as multiple examples have been documented of the media failing on a unprecedented scale, from CNN's multitude of false, retracted, deleted stories, one of whichforced the resignation of three high profile employees, to ABC News' Brian Ross having to be suspended after tanking the stock market with a "fake news" story. Wapo, NYT, multiple retracted CNN articles, CBS, MSNBC, and others all got caught out pushing inaccurate information in 2017.
The examples go on and on, but back to the reactions, we have Meg Kinnard from Associated Press taking WHCD to task stating "If the #WHCD dinner did anything tonight, it made the chasm between journalists and those who don't trust us, even wider. And those of us based in the red states who work hard every day to prove our objectivity will have to deal with it."
Perhaps a better gauge of how badly received the White House Correspondents' Association's choice of "entertainment" was, is the amount of far left liberal journalists that felt the need to publicly stand up for Sarah Huckabee-Sanders, with NYT Maggie Haberman taking to social media to say "That @PressSec sat and absorbed intense criticism of her physical appearance, her job performance, and so forth, instead of walking out, on national television, was impressive." The Washington Post's Josh Dawsey responded "Lot of critics but she has always been decent and professional to me — if not entirely forthcoming (and I don't expect any press secretary to be!)" Kelly O'Donnell of NBC News chimed in "The spirit of the event had always been jokes that singe but don't burn.  Reporters who work with her daily appreciate that @presssec was there."
Perhaps the best response came from a regular, non-blue check mark Twitter user who captured the feel of the mood of journalists over the utter failure of the WHCD, when Jake Taylor responded to a Wolf comment to Maggie Haberman's statement, where he simply said "Journalism took 5 steps back in the wrong direction tonight, thanks to you."
Related: "WHOA: Even journalists thought the #WHCD was AWFUL" and "MEAN GIRL –> Michelle Wolf's response to criticism of her bullying Sarah Sanders at WHCD is infuriating"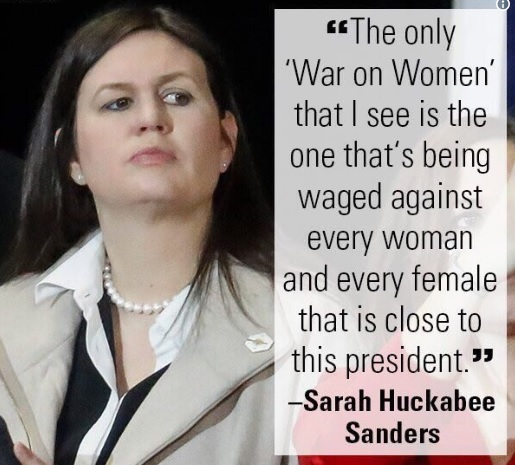 THE WHCD SHOULD BE DISCONTINUED
2017 was a horrendously bad year for the mainstream media in regards to honesty and integrity, where the culmination of the constant barrage of inaccurate news, retractions, corrections, disinformation and actual "fake news," has been seen in the results of the latest polling as to the level of distrust everyday, ordinary Americans have for the MSM, with 77 percent saying they publish fake news. 46 percent think they do it occasionally and 31 percent say they do it regularly.