Robert Mueller Turned Blind Eye To Backpage And Child Sex Trafficking
Robert Mueller Turned Blind Eye To Backpage And Child Sex Trafficking, So Please Stop Acting As If He Is Some Paragon Of Virtue By Susan Duclos – All News PipeLine
– Mueller's Failure To Act Resulted In The Sexual Abuse And Death Of Children
I am sick and tired of liberals, Democratic politicians and NeverTrumpers treating former FBI Director and now-special counsel Robert Mueller as some paragon of virtue for no other reasons than their intense Trump Derangement Syndrome, when a look at one of Mueller's worst failures actually highlights a man of questionable tactics, ethics and morals.
BACKPAGE'S CHILD TRAFFICKING BEGAN DURING MUELLER'S TENURE AS FBI DIRECTOR
Previously ANP reported on the seizure of the Backpage website and affiliated websites, along with a follow up on the arrest and charging of Backpage officials, including the CEO, founders, and owners, with the full unsealed 61 page indictment with 93 counts charged against them, including human trafficking and the sex trafficking of minors.
We highlighted the top officials of Backpage being large donors of the Democratic party, Democratic politicians and Hillary Clinton, and the long history of states trying to shut down what a Senate report indicated was a company involved in 73 percent of reported human trafficking complaints, including trafficking of minors.
Three days after the 61 page indictment was unsealed the Department of Justice announced that Backpage's co-founder and CEO, along with multiple other corporate entities had entered guilty pleas. Backpage.com, as an entity, was one of those guilty pleas, admitting to human trafficking in Texas, announced by the Texas AG, Ken Paxton.
Backpage's co-founder and CEO, who pleaded guilty to conspiracy to facilitate prostitution using a facility in interstate or foreign commerce and to engage in money laundering, is Carl Ferrer, 57, of Frisco, Texas. Ferrer entered into a plea deal in which he will testify against others alleged co-conspirators, such as the founders Michael Lacy and James Larkin.
Robert Mueller's failures were many in relation to Backpage and their sex trafficking, which continued throughout Mueller's tenure as FBI Director from 2001 through 2013. During his tenure, since 2010, multiple state law enforcement agencies unsuccessfully attempted to shut Backpage down or even just get their adult services section where women and children were being trafficked, shut down, and legislative initiatives were proposed with the same goal.
MUELLER 'HONORED' BACKPAGE CEO THAT JUST ENTERED GUILTY PLEA FOR HUMAN TRAFFICKING?
Mueller did nothing….. well, not exactly nothing. According to multiple reports, Mueller did "recognize" Carl Ferrer in 2011, amidst the ongoing legal actions being taken against Ferrer and Backpage for sex trafficking, including the trafficking of minors, for his "outstanding cooperation and assistance in connection with an investigation of great importance….."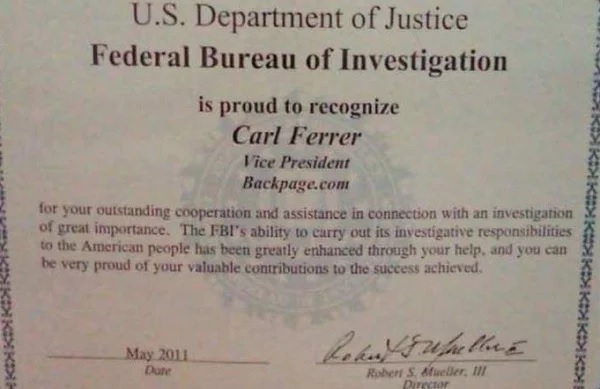 Via WND:
Multiple online reports, including by the GOP Briefing Room and True Pundit, documented Mueller's honoring of Ferrer in 2011.

The image of the award from the FBI, signed by Mueller, states the bureau is "proud to recognize Carl Ferrer, Vice President, Backpage.com for your outstanding cooperation and assistance in connection with an investigation of great importance. The FBI's ability to carry out its investigative responsibilities to the American people has been greatly enhanced through your help, and you can be very proud of your valuable contributions to the success achieved."

FBI sources said the honor might even have included a cash reward.
Quick Recap: Backpage continued to run unfettered during Mueller's tenure as FBI Director. Mueller allegedly recognized the CEO of Backpage in 2011, while multiple states were attempting to shut down their sex trafficking business, which included the trafficking of minors. Backpage continued to be allowed to traffic human victims during former FBI Director James Comey's tenure as well.
Note– I use the term allegedly because while multiple sites are reporting the image above, we have not been able to independently verify where the original image was obtained.