Open Letter to the "Fakest Fake News" Winner
Open Letter to the "Fakest Fake News" Winner by James Corbett – Corbett Report
As attentive Corbett Report viewers will already know, The Guardian was the recipient of the highest dishonor of the year this year: The award for "Fakest Fake News Story of the Year 2017" at my First Annual REAL Fake News Awards ( aka "the Dinos"). Specifically, the dishonor was bestowed on The Guardian's San Francisco-based technology reporter, Olivia Solon, for her breathtaking contribution to the annals of establishment fake news hackery, "How Syria's White Helmets became victims of an online propaganda machine."
The report, for those who have not read it yet, is as exactly what you would expect from an establishment stenography institution like The Guardian: The so-called "Syrian Civil Defence," aka the White Helmets, are pure and virtuous; anyone who questions them is an anti-imperialist activist/conspiracy theorist/troll with support from the Russian government; no criticisms of the group are valid and they've all been refuted by reputable fact-checkers like Snopes; blah blah blah, etc., etc. As I say, you know exactly how the story goes…but you should read it anyway. It really is a perfect snapshot of the template that the MSM uses to discredit any and all opposition, and it would have been incredible effective…in the 1950s, when people still trusted the mainstream media. (Protip: no one trusts the MSM anymore!)
As it is, this is the age of the internet and it's impossible for fake news stories like this to fly with an increasingly informed and connected public. When The Guardian ran its hit piece on the independent researchers like Vanessa Beeley and Eva Bartlett and Tim Anderson who are countering the mainstream White Helmets / Syria narrative, they just responded on their own websites and social media and in interviews on independent media sites, probably reaching more people in the process.
One of the highlights of this response came in Eva Bartlett's rebuttal of The Guardian smear job, "How the Mainstream Media Whitewashed Al-Qaeda and the White Helmets in Syria." In that report, Eva Bartlett published Olivia Solon's actual emails to Bartlett when she was seeking comment for her article. Stop what you're doing and read those emails right now.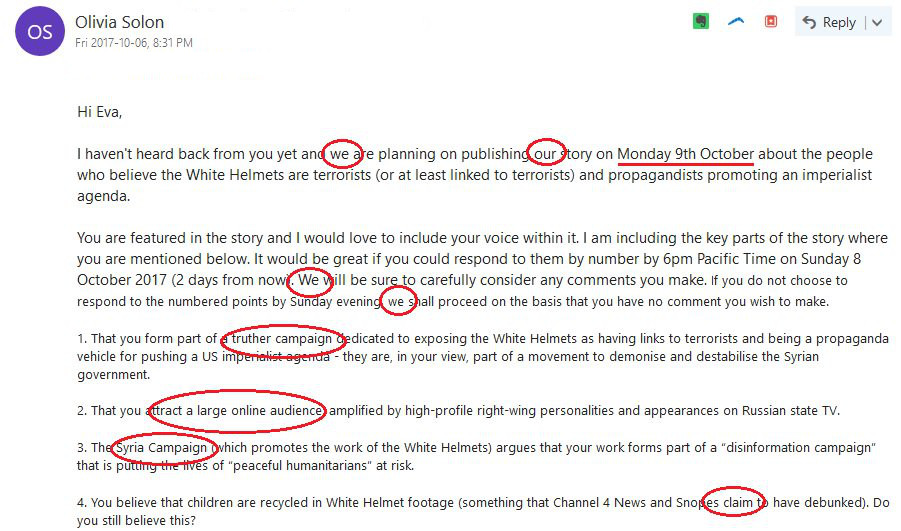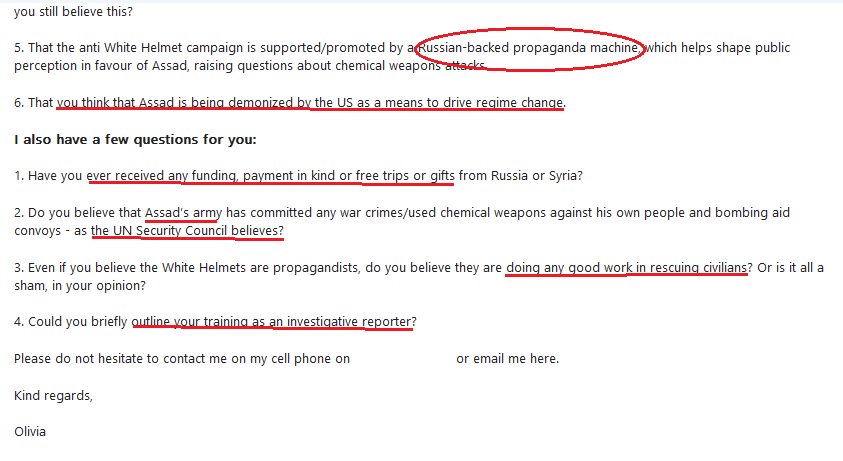 If you ever wanted to know how the sausage is made, here it is in all its gory glory: Leading questions. Accusations. Taunts and insults framed as innocent inquiries. It's like Solon went to the same school of journalism as Cathy Newman.
As attentive Corbett Report viewers will also know by now, I released my own response to Solon's hit piece this past Friday: The White Helmets Are A Propaganda Construct.
As I note at the end of my podcast: "Olivia Solon was contacted for comment on this report, but she did not respond to the request." That's right, of course I offered Solon a right of reply to the piece that I was writing about her story. In fact, I did even more than that: I very closely copied her own email's style, format, and even some of her questions when I reached out to her. Sadly, though, Solon did not see fit to reply to my query.
So, in an effort to reach her via a different outlet, I am releasing my email to Solon as an open letter. If anyone out there happens to be in contact with her, perhaps you could pass these questions along? Thanks!
———–
FROM: James Corbett
TO: Olivia Solon
SUBJECT: Media request re: The White Helmets
Hi Olivia,
I am a reporter in Japan and I'm planning to publish a report on February 9 about the "journalists" who believe that the White Helmets are crusading heroes and the independent reporters who are seeking to expose that lie.
Your reporting is featured in this report and I'd like to include your voice within it. I am including the key parts of the report which will call your own reporting into question below. It would be great if you could respond to them by 12 noon Japanese time on Friday, February 9th (2 days from now). I will be sure to carefully consider any comments you make. If you do not choose to respond to the numbered points by Friday I shall proceed on the basis that you have no comment you wish to make.