Schumer's 'Six Ways To Sunday' Threat Against President Trump Backfires…
Schumer's 'Six Ways To Sunday' Threat Against President Trump Backfires As Deep State Members Continue To Fall One By One By Susan Duclos – All News PipeLine
Everything we have witnessed over the last year, from the leaks to the press by the intelligence community, to the revelations that members of the FBI and DOJ were actively setting up an "insurance policy" before the presidential election in the event that Donald Trump won, was predicted by Senate minority leader Chuck Schumer, when he told Rachel Maddow "Let me tell you, you take on the intelligence community, they have six ways from Sunday at getting back at you," in reference to Trump, when he was President-elect, criticizing the intelligence community.
Brief Recap: That was a direct threat geared toward warning the president-elect that the deep state would come after him, and we see from recently revealed text messages uncovered by the Office of Inspector General, between FBI agent Peter Strzok, and his supposed mistress FBI lawyer Lisa Page, that Strzok, Page and their "team" had been actively working to help Hillary Clinton get elected, while taking out an "insurance policy" in the event that Donald Trump won the election. It has even been admitted that "insurance policy" was the whole Russia investigation.
Strzok was also Chief of the Counterespionage Section during the FBI's investigation into Hillary Clinton's use of a personal email server, worked under former FBI director James Comey, and took part in the revisions of the wording for Comey's statement recommending that Clinton not be prosecuted, with now publicly known edits showing the term "grossly negligent" was changed to "extremely careless," in order to rig the outcome of the FBI investigation, in an apparent attempt to help get Clinton elected.
Strzok and Page's text messages made it clear they had an extreme anti-Trump bias, and were pro-Clinton, and that they held at least one meeting in the office of Deputy Director of the FBI, Andrew McCabe to discuss a "path" to prevent Trump from being elected.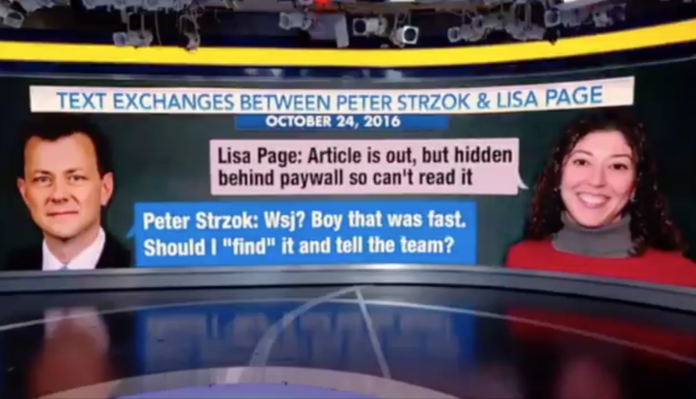 OIG INVESTIGATION IS ALREADY CLEANING OUT THE DEEP STATE
Now that we are caught up, some recent reports show that Strzok and Page weren't just attempting to plot a Clinton win and Trump loss, while taking out insurance in case Trump won, by actively pre-planning the Russia probe, with the help of Comey, who admitted in front of Congress he deliberately arranged to have information leaked to the press in order to kick-start a special counsel investigation, in which he was successful at accomplishing.
That was the insurance policy and we now also know that a significant number of people that were chosen to be on special counselRobert Mueller's team, have been reassigned, demoted, terminated or have announced plans to retire.
Recent reports indicate that Strzok and Page were also actively leaking information to the press, as more texts have been revealed by  John Solomon over at The Hill:
In one exchange, FBI counterintelligence agent Peter Strzok and bureau lawyer Lisa Page engaged in a series of texts shortly before Election Day 2016 suggesting they knew in advance about an article in The Wall Street Journal and would need to feign stumbling onto the story so it could be shared with colleagues.

"Article is out, but hidden behind paywall so can't read it," Page texted Strzok on Oct. 24, 2016.

"Wsj? Boy that was fast," Strzok texted back, using the initials of the famed financial newspaper. "Should I 'find' it and tell the team?"

The text messages, which were reviewed by The Hill, show the two FBI agents discussed how they might make it appear they innocently discovered the article, such as through Google News alerts.

"I can get it like I do every other article that hits any Google News alerts, seriously," Strzok wrote, adding he didn't want his team hearing about the article "from someone else."