Gordon Chang: Blowup w/ China or North Korea Could Change Almost Everything Overnight (Podcast)
Gordon Chang: Blowup w/ China or North Korea Could Change Almost Everything Overnight Podcast by Mike Gleason – Money Metals
Coming up we'll hear a wonderfully insightful interview with Asian expert Gordon Chang. Gordon shares his views on Donald Trump's much-hyped Tweet about the size of his nuclear button, gives his very studied view on the state of the Chinese economy and what the state of all of the Asian geopolitics will mean for the global markets. Be sure to stick around for my very interesting conversation with Gordon Chang, coming up after this week's market update.
Precious metals markets are off to a strong start in the New Year.
The gold market shows a 1.2% gain this week to bring spot prices to $1,319 an ounce. The first key technical level to watch going forward from here is $1,350 – gold's high mark for 2017. After that, the $1,375 and $1,400 levels will come into play. A breakout above $1,400 would represent a multi-year high and likely induce some strong momentum buying for the first time in years. But for now the yellow metal still remains mired in a long-term basing pattern.
Turning to silver, prices currently come in at $17.24 per ounce and are higher by 1.5% for this first week of 2018. Platinum was the laggard in the PM space in 2017 but is a leader in the first few trading days of 2018 – posting a gain of 4.0% this week to trade at $970. Its sister metal palladium made a new all-time high on the heels of a 3.0% weekly advance and currently trades at $1,095 an ounce as of this Friday morning recording.
On Wednesday, the Federal Reserve released the minutes from its December meeting. Metals initially sold off as the dollar strengthened, but those market reactions both reversed on Thursday.
Policymakers raised the Federal funds rate by a quarter point this past December. But as the meeting notes reveal, opinion is divided over whether to continue raising rates at a gradual pace this year. The consensus forecast is for the central bank to push through three rate hikes in 2018. Traders are now putting the odds of a March hike at close to 70%.
The GOP's tax cut passage may tilt the Fed slightly more hawkish. Fed economists now project modestly higher GDP growth thanks to the tax cut stimulus.
The fiscal stimulus should help push inflation rates up toward the Fed's 2% target by the end of the year – and perhaps beyond. In recent weeks, inflation-correlated assets such crude oil, precious metals, and resource stocks have perked up while interest rate sensitive assets such as bonds have struggled.
The stock market, of course, keeps chugging ahead – where it finally stops, no one knows. Momentum chasers keep buying, which pushes prices higher, which creates more momentum to chase. The stock market has long past the point of being a place for value investors – at least when it comes to the major averages such as the Nasdaq and S&P 500. Valuations are now in bubble territory.
Investors may look back on 2018 as the opportunity of a lifetime to switch from overvalued stocks to undervalued precious metals.
The supply and demand fundamentals for precious metals are set to improve in 2018. Low gold and silver prices over the past few years have severely hurt the mining industry. It has continued to operate existing mines – sometimes at losses – even as it has slashed exploration and development of new projects. That will mean years of stagnating or even declining output ahead.
Metals Focus projects mining output of gold in 2018 will show a slight decrease from 2017. Analysts expect a more significant drop could occur in 2019.
A similar pattern is expected to play out in silver, though it's more difficult to forecast since few primary silver miners exist. Demand for silver is also more variable, with investment demand being the biggest wild card.
Commodity markets analysts at TD Securities believe silver may be the metal to own in 2018. They forecast silver prices will hit $20 this year. That would be an important technical level to hit. Yet $20 per ounce silver would still be less than half of its all-time high. You can't say that about gold or most any other commodity or asset class on the planet right now.
From a value perspective, silver looks compelling. Stacking more silver may be a great new year's resolution for investors to keep in 2018.
Well now, without further delay, let's get right to this week's exclusive interview.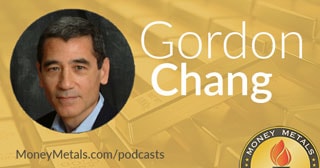 Mike Gleason: It is my privilege now to welcome in Gordon Chang, author, television pundit, and columnist at the Daily Beast. Gordon is a frequent guest on Fox News, CNBC, and CNN, among others, and is one of the foremost experts on Asian economics and geopolitics, having written books on the subject and it's great to have him back on with us.
Gordon, it's a real honor to have you on again, and thanks so much for your time today. I know it's been a busy week for you given all of your media appearances, and we're grateful that you could join us today. How are you?