"Bitcoin Cash" Quadruples in 2 Days. Bitcoin Crashes by $35 Bn
"Bitcoin Cash" Quadruples in 2 Days. Bitcoin Crashes by $35 Bn by Wolf Richter – Wolf Street
Peak Crypto Craziness?
I'm writing this Saturday night, Pacific Time, and cryptos never rest. By Sunday morning, "Bitcoin Cash" might have soared another $1,000 or crashed by $1,000; and bitcoin might have soared or crashed by another $1,500. Neither would surprise me, the way these things are going.  One thing for sure, you're not watching grass grow.
Bitcoin Cash, which was split from bitcoin in August, began surging from $630 on Thursday mid-day Pacific Time. Within 24 hours, it jumped 50% (or by $320) to $950. It then lost steam. But in the wee hours of Saturday morning, it fired up again and soared another $450 to $1,400 by late morning. It then fell off, but Saturday night, it returned to form and spiked to $2,448 at the moment, nearly quadrupling in two days. Here is what the move looks like in US dollars in a seven-day chart (via WorldCoinIndex):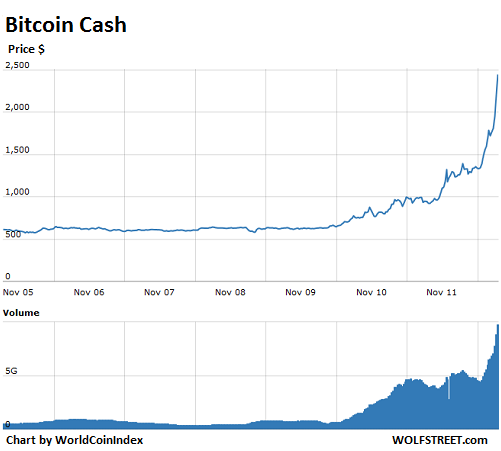 Its market valuation jumped by $30 billion over the two days, from $10.6 billion to $41 billion. I mean why even bother with the stock market.
Bitcoin went the opposite way. It plunged from a peak of $7,771 on November 8 mid-morning to $5,519 at this moment, losing $2,252 or 29% in three days. It's now back where it first had been in late October. Its market valuation plunged by $35 billion from $127 billion to $92 billion. $35 billion is starting to add up, so to speak (via WorldCoinIndex):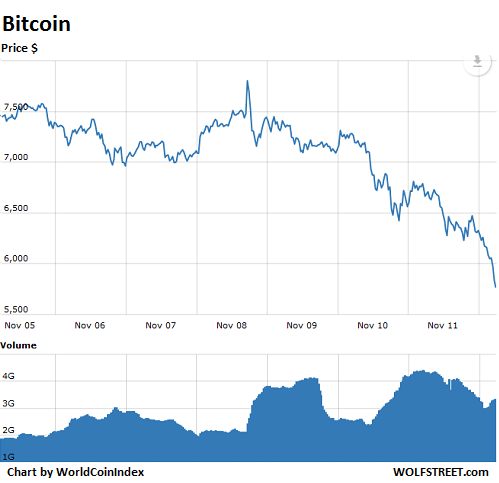 Bitcoin ran into an entanglement on November 8, when developers called off a planned software upgrade, SegWit2x. The upgrade was supposed to have improved transactions speeds. This was blamed for the plunge that started on Wednesday.
Then the fun focused on Bitcoin Cash. By Friday, as Bitcoin Cash had soared 50% while bitcoin was crashing, it was blamed on traders that were switching from chasing after bitcoin to chasing after Bitcoin Cash.