Now 31 sealed indictments in DC
Now 31 sealed indictments in DC from IWB
TDC Note – Who would've thought there could be 31 indictments against a gang of criminals in Washington DC? We can only hope this is the beginning of the end and before too long there will be a zero or two added to that 31. They are all corrupt up to their eyebrows and need to be investigated. Corker and Flake are getting out of the way to avoid being investigated.
7 new indictments filed in DC, that's 31 total!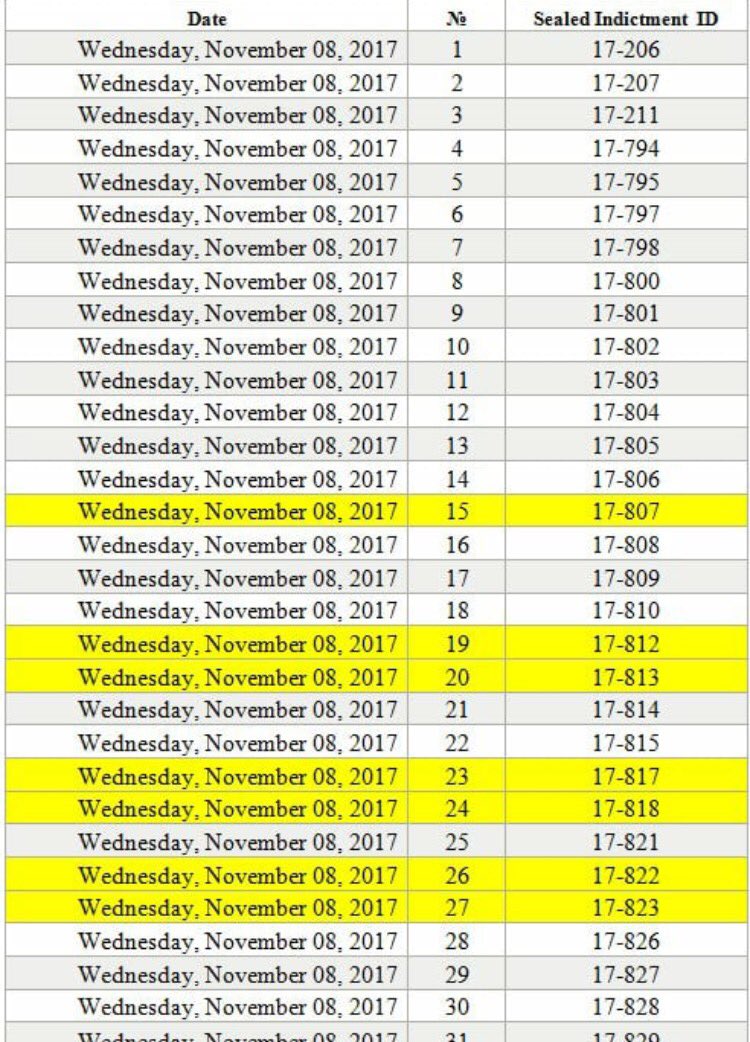 https://twitter.com/LizCrokin/status/928357252896997376
When does it start to go down?
1. Don't shift the goalposts. Again – this number of sealed indictments filed in 1 court over 1 month is unprecedented. This (liberal) article quotes lawyers saying that 4 in a month is not unusual, but on the higher side: https://t.co/seZo9POUAv

— Imperator_Rex (@Imperator_Rex3) November 8, 2017
Read the article, then read through the graphics… #TheStormIsHere https://t.co/qQ6Tm9roan pic.twitter.com/VxOyePMSso

— CdnSewerRat🐀 (@singofhisgrace) November 8, 2017
The thing that has me worried is that Mueller hired several lawyers to help him and almost ALL of them are Clinton/Obama donors!
Meet the all-star team of lawyers Robert Mueller has assembled for the Trump-Russia investigation

As the investigation into ties between President Donald Trump's campaign and Russian officials reportedly plows ahead at a breakneck pace, special counsel Robert Mueller has quietly assembled a formidable team of investigators whose resumés offer a glimpse into potential leads the probe is chasing.

Mueller's team boasts a storied amount of experience both prosecution and criminal defense, hailing from prestigious law firms like WilmerHale to top spots within various divisions of the Justice Department.

The lawyers, combined, possess a vast array of experience investigating financial fraud, corruption, money laundering, foreign bribery, and organized crime.

And Mueller's team has been on the offensive from the get-go — they have reportedly requested documents regarding some of Trump's most controversial decisions in the White House, and they have doggedly gone after Paul Manafort, Trump's former campaign chairman, executing a no-knock search warrant in July and even warning that they planned to indict him, according to The New York Times.

"They are setting a tone. It's important early on to strike terror in the hearts of people in Washington, or else you will be rolled, Solomon Wisenberg, who served as deputy independent counsel in the Whitewater investigation in the 1990s, told the Times. "You want people saying to themselves, 'Man, I had better tell these guys the truth.'"

Mueller's roster of lawyers has earned bipartisan acclaim for their wealth of experience, yet some members have come under fire from conservatives over their previous donations to Democrats. Some critics have even urged Trump to fire Mueller over the hires.

Trump himself has even weighed in:

"You are witnessing the single greatest WITCH HUNT in American political history — led by some very bad and conflicted people!" Trump wrote on Twitter in June. – Continue Meeting the Clinton/Obama Donors – I mean Lawyers / Business Insider>>>