Survival Knife With Fire Starter
Survival Knife With Fire Starter by Ken Jorgustin – Modern Survival Blog
A survival knife with a fire starter is a recommended combination by Modern Survival Blog for general applicable carry. Having both a knife and a fire starter will serve as excellent bushcrafting tools. Bonus: It will also help assure your survival.
I personally like the knife sheath that includes a holder for a fire starter such as a firesteel / ferro (ferrocerium) rod. It's just a perfect combination. There's nothing wrong with separately carrying a fire starter but this keeps it all in one place (the knife spine as a striker and the fire starter rod tucked in the sheath).
A great survival combination during wilderness activities or hiking, camping, and many other outdoor excursions.
The survival knife shown in the picture above is manufactured by world renown Swedish manufacturer, Morakniv (it's a 'Mora' knife). And this particular model is called "Bushcraft Survival Black".
Morakniv Bushcraft Carbon Steel with Firestarter, Black
Here's what's interesting about this particular design:
SPECIALLY GROUND SPINE FOR INTEGRATED FIRE STARTER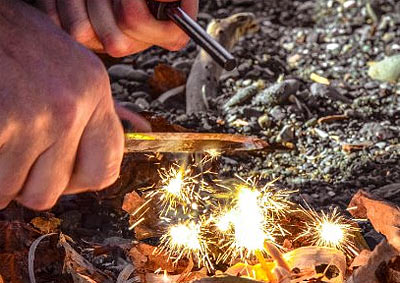 The spine of the blade has been specially ground (flat with sharp 90-degree angle) so that it can be used with the fire starter.
It works by pulling the spine of the knife slowly and forcefully down against the fire starter. The action will shed 3,000 degree sparks to light your tinder bundle or even your camp stove. The included fire starter will yield ~7,000 strikes.
BATONING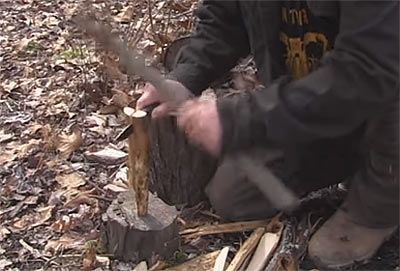 Batoning is the action of striking the spine of a knife forcing it into the end of a piece of wood in order to split it. The reason people do it is to get at the drier wood inside or simply for splitting into smaller pieces used for kindling.
The best way to describe the Morakniv Bushcraft, in fact most Moras, would likely be to call it a "2/3 tang" design. But don't let this deter you from considering this knife. It's built well. The Mora family of knives are some of the most popular and modestly priced bushcraft knives out there. They combine excellent metallurgy with modern manufacturing techniques to create a good knife that anyone can afford. If you want to chop a tree down with a blade, buy an axe. If you want a good affordable knife that can handle any task a REASONABLE person would use it for, a Mora is a great choice.