Brick-and-Mortar Meltdown Sinks Property Prices
Brick-and-Mortar Meltdown Sinks Property Prices by Wolf Richter – Wolf Street
Other sectors are weak too, but one sector is hot.
Commercial real estate prices soared relentlessly for years after the Financial Crisis, to such a degree that the Fed has been publicly fretting about them. Why? Because US financial institutions hold nearly $4 trillion of commercial real estate loans. But the boom in most CRE sectors is over.
The Green Street Property Price Index – which measures values across five major property sectors – had soared 107% from May 2009 to the plateau that began late last year, and 27% from the peak of the totally crazy prior bubble that ended with such spectacular fireworks. But it has now turned around, dragged down by a plunge in prices for retail space.
The CPPI by Green Street Advisors dropped 1.1% in October from September. In terms of points, the 1.4-point decline was the largest monthly decline since March 2009. The index is now below where it had been in June 2016: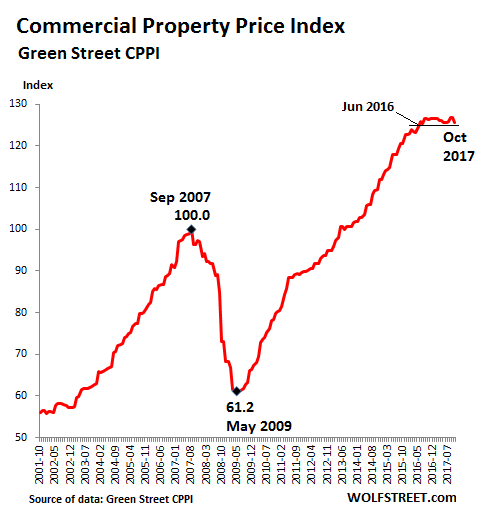 This phenomenal bubble, as depicted by the chart above, has even worried the Fed because US financial institutions hold nearly $4 trillion of CRE loans, according to Boston Fed governor Eric Rosengren earlier this year. Of them, $1.2 trillion are held by smaller banks (less than $50 billion in assets). These smaller banks tends to have a loan book that is heavily concentrated on CRE loans, and these banks are less able to withstand shocks to collateral values.