There Is Something 'Dark And Disturbing' About This Outbreak
There Is Something 'Dark And Disturbing' About This Outbreak – Bizarre Coincidences And Deadly Proficiency – Part 1 Of 3 by Stefan Stanford – All News Pipeline
– As Black Death Plague Strikes Madagascar, Might We Soon Witness Bio-Component 'K For Kill Everyone'?
According to this brand new story from The Express sent over to ANP by Steve Quayle, a NEW 'Black Death' has been discovered in Uganda, a virus WORSE than plague with NO cure according to the World Health Organisation (WHO). Just the latest plague 'outbreak' this year, ANP will be taking a look over the next several days at the unusual surge of black death plague and the next story in this series will feature an in depth interview with Steve Quayle.
In the map we see above taken directly from the Center for Disease Control (CDC) showing cases of the human plague across the United States between 1970 and 2012, one particular case should immediately stand out.
Back in 2009, a laboratory-acquired infection of Yersinia pestis, the disease that causes the black death plague now causing a panic after wiping out an estimated 60% of Europe's population back in the 14th century, struck a 60-year old man who had been working at a university laboratory in Chicago, Illinois. The only known case of the plague in the eastern half of the US in 40+ years, the case also happened within the 2 years following the 2007 arrival of Wyndham Lathem as a Professor at Northwestern University in Chicago, Illinois, where he was an expert on the Yersinia pestis, the black death plague.
For those who aren't yet caught up to date, Lathem, one of the world's most reknown 'black death' researchers, was recently arrested and incarcerated for a sexual fetish murder and as Susan Duclos reported on ANP back on October 26th, we have absolute proof that Lathem had visited Madagascar soon before the outbreak of the current deadly plague. Lathem himself admits that in the first videobelow, a video perhaps appropriately titled "From Mild to Murderous: How Yersinia pestis Evolved to Cause Pneumonic Plague". If you haven't watched it yet, it's well worth the watch as it gives us a look inside the mind of a madman, who friends and colleagues had no idea was capable of murder, who had access to material that could wipe out a huge part of the human race.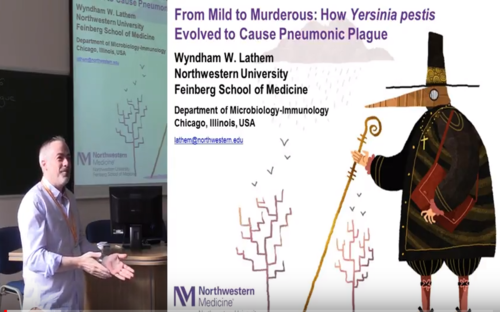 In a story about the murder that the NY Times called 'dark and disturbing', we learn Lathem admitted that he had sent a video tape to close friends and family in which, according to prosecutors, he admitted to the killing and told his loved ones "that he is not the person people thought he was." What people who knew Lathem 'thought he was' was a brilliant man, one of the foremost minds in the field of deadly disease research, yet as we learned in the NY Times story, he had another side, a part of him with a profound desire to kill people. A brief excerpt from the NY Times story on the dark and twisted murder:
On Sunday, as the two university workers stood before an Illinois judge for the first time, prosecutors laid out a plot still darker and more gruesome. Before the killing, the two men — Wyndham Lathem, who had been a professor at Northwestern University, and Andrew Warren, an administrator at the University of Oxford in England — had talked for months in an internet chat room about their "sexual fantasies of killing others and then themselves," prosecutors said.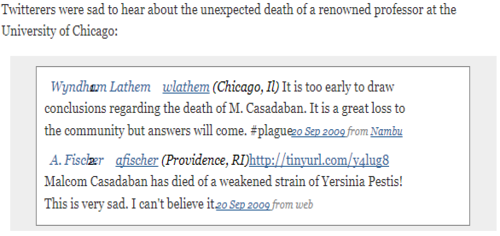 And from Chicago Now comes proof that microbiologist Wyndham Lathem did indeed know dead microbiologist Professor Malcolm Casadaban through the tweet seen above saved by Chicago Now as its been erased from Lathem's account. However, his Twitter account is still alive and well as of this moment and in it, he admits his recent trip to Madagascar as seen in the next screenshot below.
According to the Daily Northwestern, over the past 14 years, Lathem established himself as one of the nation's preeminent Yersinia researchers. He contributed to 28 different published research findings that have been cited more than 1,700 times, according to his database on ResearchGate.
And remember this next excerpt from their story: Shortly before leaving Washington University in St. Louis for Northwestern in 2007, he discovered a gene in Yersinia pestis, known as PLA, that allows pestis to replicate quickly in air-filled areas — such as lungs, where it causes pneumonia, the key element of pneumonic plague — but does not affect its replication rate in lymph nodes and the bloodstream. Much more on that below.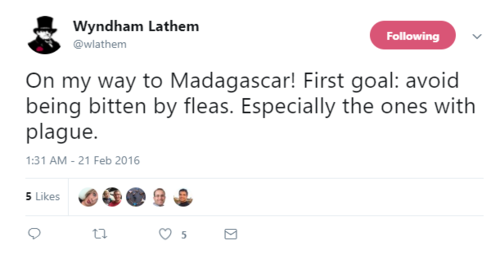 While here in the US, Lathem had passed a security clearance from the FBI so was deemed able to handle the deadly Yersinia pestis, he was planning to move from Chicago to the esteemed Pasteur Institute in France but French authorities DENIED him the necessary security clearance.  Why was Lathem able to work with one of the most deadly bacteria in the world here in the US, that's already wiped out a huge part of the human race and called the 'greatest catastrophies ever', but denied a similar clearance to do so in France?
Of note, as recently as March of 2017, Wyndham Lathem was a featured speaker at a Chemical and Biological Terrorism Defense Conference that was held in California. His topic title: "Your Own Worst Enemy: How Yersinia pestis Turns the Body Against Itself". As you can see in the screenshot below, he is listed as being from the Pasteur Institute in France though they denied him entry.

According to the World Health Organization, the primary symptoms of black death plague and the common flu are nearly identical for the first 24 hours but generally by the time doctors realize it's NOT the flu but something worse, it's already too late. Doctors warn that antibiotics during the plague must be taken within that first 24 hours or rapid death will follow. And as we learn in more detail below, Lathem had discovered a gene in Yersinia pestis that allowed it to spread much more quickly within the lungs and in the very same pneumonic form that is now striking Madagascar. Just a coincidence? From the Express: