ANOTHER Murdered Las Vegas Eyewitness Reminds Us: Dead Men Tell No Tales!
ANOTHER Murdered Las Vegas Eyewitness Reminds Us: Dead Men Tell No Tales! by Stefan Stanford – All News Pipeline
– Is This Proof We're Witnessing It In Vegas As They Try To Clean Up Their Mess?
While for many decades, anybody who has attempted to talk about the United States government sponsoring 'false flag terrorism' has been either labeled a 'tinfoil hat wearing conspiracy theorist' or a 'nut', we get absolute proof from the recently released JFK Files that going back at least 55 years, our government had no problem terrorizing innocent people here in America and blaming it on others.
With the JFK Files finally being released at the same time as what appears to be a massive, coordinated 'event' in Las Vegas, with another dead witness who claimed to have been chased by two shooters as shared in much more detail below, we're now being told by those in positions of authority that they'll be refusing to release any new Vegas information to the public because 'it doesn't matter'anyways. So, we have to ask, why should the American people believe ANYTHING we are being told when the JFK Files PROVE we've been lied to by parts of our government for over 55 years??!!!
As we've previously reported on ANP, those who've been paying attention know that the 'deep state' of the US government had no problem what-so-ever terrorizing the innocent and blaming that terror upon others as was documented in Operation Northwoods, which sounded very similar to what we're now reading of 'Operation Mongoose' as seen in the screenshot below.
And as we hear in the first video below, the newly released JFK files proves that the CIA engages in false flag terrorism on United States soil designed to terrorize American citizens and convince them that new laws inhibiting freedom and liberty are necessary to promote safety within the country and combat foreign boogeymen.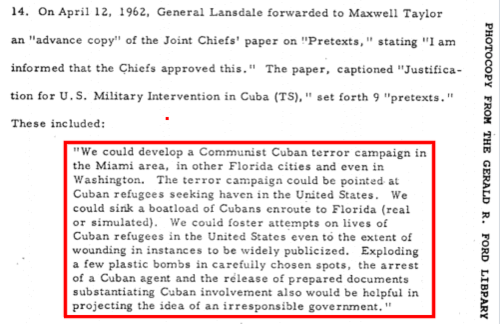 For those who have been sleepwalking through TRUE American history, Operation Northwoods was a proposed false flag operation against the Cuban government that originated within the U.S. Department of Defense (DoD) and the Joint Chiefs of Staff (JCS) of the United States government in 1962.
The proposals called for the Central Intelligence Agency (CIA) or other U.S. government operatives to commit acts of terrorism against American civilians and military targets, blaming it on the Cuban government, and using it to justify a war against Cuba. The plans detailed in the document included the possible assassination of Cuban émigrés, sinking boats of Cuban refugees on the high seas, hijacking planes, blowing up a U.S. ship, and orchestrating violent terrorism in U.S. cities.
The proposals were rejected by the Kennedy administration.
Since we now have absolute proof that the United States government was planning on terrorizing innocent people to meet their sick, political agenda of getting us into a war with Cuba 55 years ago, why should Americans think that the 'deep state' wouldn't do the same thing in 2017? The fact that JFK was killed soon after rejecting their satanic proposals of terrorizing the American people while blaming it upon others should speak loudly and clearly to ALL Americans.