'Double Plague' Outbreak Could Be Man Made? Airborne Pneumonic Plague Prompts Black Death Warnings In Nine Countries & Territories
'Double Plague' Outbreak Could Be Man Made? Airborne Pneumonic Plague Prompts Black Death Warnings In Nine Countries & Territories by Susan Duclos – All News Pipeline
– Plague Researcher & Fetish Murderer Visited Madagascar Prior To Outbreak
After having read reports that the deadly plague outbreak in Madagascar which has killed over 120 people with another 1,300 infected, has prompted health warnings in nine other countries due to the fear the infection could spread via flights from Madagascar, it certainly peaked my interested when a report from POTR blog showed up in my email box, asking if this latest outbreak was man made and deliberate.
According to a professor of microbiology and immunology at the University of Texas, Dr Ashok Chopra, this latest large outbreak in Madagascar is more disturbing because "Most of the cases in the past have been of the bubonic plague but if you look at this particular outbreak, 70 percent of the cases are pneumonic plague, which is the most deadly form of the disease."
Pneumonic plague, often referred to as the Black Death, is far more infectious and deadly than bubonic plague because it is airborne, and it is pneumonic plague that was responsible for wiping out one third of the population in Europe in medieval times.
The nine countries and territories that have been listed as "priority countries in the African region for plague preparedness and readiness by virtue of having trade and travel links to Madagascar," are Comoros, Ethiopia, Kenya, Mauritius, Mozambique, La Réunion (France), Seychelles, South Africa, and Tanzania," as shown in the map below, via The Sun.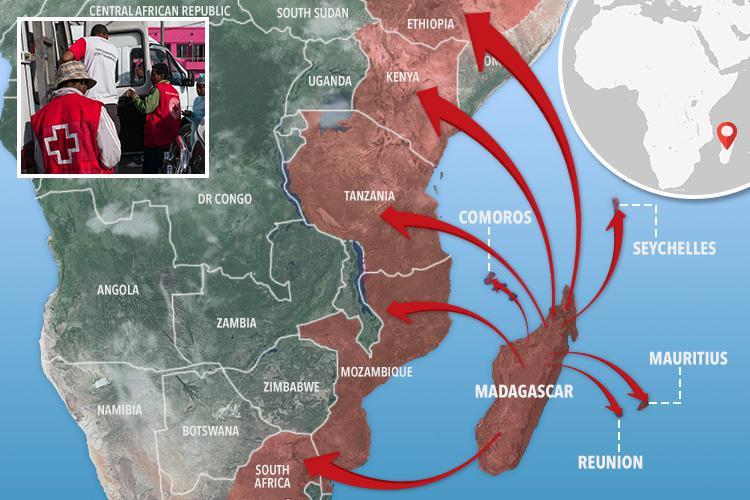 WHO reported in early October they had delivered nearly 1.2 million doses of antibiotics and released US$1.5 million dollars in emergency funds to fight plague in Madagascar and while minor outbreaks have been seen in there before, this latest outbreak, which some have dubbed a "double plague," because it is spread two different ways, by fleas and by people, has caused a widespread panic.
BIZARRE CONNECTIONS AND TWISTS
A little after 9:00 am on October 26, POTR blog put out a tweet, a video and referenced an article on their blog, but the tweet alone was enough to have my search engines cranking, when they stated "Is it coincidence that the world's top #Plague researcher & #Fetish murderer visited #Madagascar prior to #pandemic?"
Wait…. what?? That was my first reaction, then I clicked the article, then each of the sources listed beneath the article, and there were definitely enough bizarre connections and twists to hold my attention.
Obviously the team at POTR has been digging into this for a while because back on August 5, 2017, they made the following statement "Reported captured in national #manhunt, a #Northwestern #PneumonicPlague researcher accused of murdering 1 of his gay 3some #Outbreak next??"
The manhunt referred to was Wyndham Lathem, who together with a man named Andrew Warren planned, then implemented the sick and twisted murder of Lathem's boyfriend, 26-year-old Trenton James Cornell-Duranleau. The crime was brutal as the victim had been stabbed dozens of times, and the two perpetrators went on the run at the end of July 2017 and turned themselves in on August 4th, hence the #manhunt reference.