US Treasury Rates Hit Nine-Year Highs
US Treasury Rates Hit Nine-Year Highs by Wolf Richter – Wolf Street
But the yield spread collapses to lowest since early in the Financial Crisis. Even the Fed is worried.
Prices of US government bonds fell across the board on Friday, and their yields rose and set a number of nine-year highs, in some cases nine years to the day.
Many people have pointed at the Senate where the prospects of the tax cut are said to have "brightened" when the Senate approved a budget resolution. The tax cuts, if they make it, are said to lower government revenues by $1.5 trillion over 10 years. So maybe the bond market is starting to pay attention to government deficits and the national debt once again. But the bond market hasn't paid attention in many, many years, and until the proof is in, I doubt it.
There are, however, other factors that predate Friday by many months. In fact, the moves in Treasury yields for maturities up to two years have been fairly consistent: yields have been surging.
On Friday, the three-month Treasury yield rose to 1.11%, the highest since the brief spike around July 25, when the debt ceiling issue hit a speed bump. At the time the thinking was that in late September – when these securities would mature and the government would have to come up with the money to redeem them – the government might not be able to come up with enough money due to the debt ceiling. But this scare passed, the debt ceiling was extended temporarily, and the trajectory of the three-month yield returned to normal. Except for this spike, the three-month yield, at 1.11%, is now at the highest level since October 20, 2008 (let's remember that date, it keeps cropping up):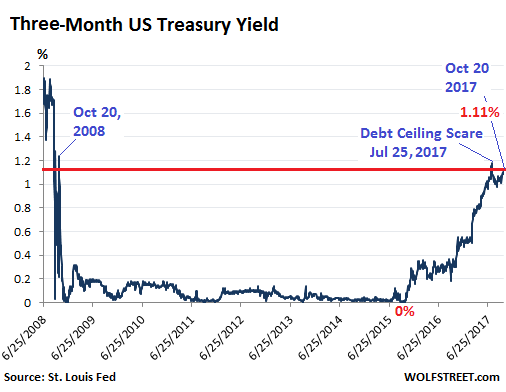 In 2013 through 2015, the 3-month yield bounced around at near zero, and actually hit 0% several times in October 2015, which was the low point. In December 2015, the Fed raised its target range for the federal funds rate for the first time since July 2006. By now, it has raised the target range three more times, and it will likely raise it again in December.