5 Nuclear Radiation Detector Choices
5 Nuclear Radiation Detector Choices by Ken Jorgustin – Modern Survival Blog
You might ask, "Why in the world would I need a nuclear radiation detector?" The answer is another question, "Have you examined the world around you lately?"
We are living in dangerous times whereby the threat and potential reality of a nuclear detonation event (or worse) is escalating. Nuclear proliferation is increasingly abundant. Most noteworthy the current events surrounding North Korea.
We also live in a world that's partially powered by nuclear power plants. Although presently safe, due to the fact that many or most of these reactors are beyond their planned lifespan, there is risk.
Should the unthinkable happen it will be advantageous to have a nuclear radiation detector (Geiger counter). Why? Because radiation is invisible. A radiation detector enables you to "see" whether or not you're in danger.
That said, I thought I would list several radiation detectors for those who might be interested. I have spent some time researching and have settled upon the following list for your potential interest.
Their features vary to an extent and you can dig into that for yourselves if you wish. When it comes to price, I have found that the detector itself (the part that actually collects / detects the radiation) makes a pretty big difference in performance (and price). It has to do with sensitivity, accuracy, measurement speed. Though even the lesser expensive units are still adequate to alert you of radiation.
I've sorted the following 5 models from least expensive to most expensive.
(Actually I've added a 6th model at the end – one of the best)
GMC-300E PLUS RADIATION DETECTOR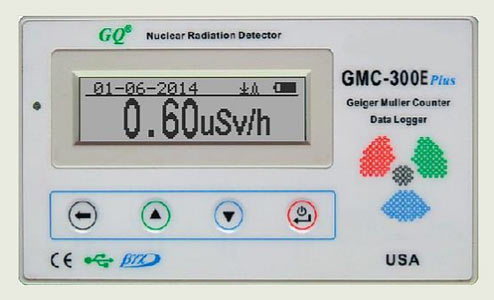 GMC-300E-Plus
One economical nuclear radiation detector is the GMC-300E-Plus made by GQ Electronics LLC in Seattle, Washington.
– Detect and Measure β (Beta), γ (Gamma) and X-ray Radiation
– CPM, µSv/h, mRem/h
– data port
– mini USB port
– PC software