The Deagel Report: An Eerily Accurate View Of What America Will Look Like In 2025
The Deagel Report: An Eerily Accurate View Of What America Will Look Like In 2025 With Unfolding De-Population Events Underway by Stefan Stanford – All News Pipeline
– You've Got To See Deagel's 2025 Forecast For North Korea! 
In this new story from Daisy Luther over at the Organic Prepper she asks a great question as her title, "If a North Korean EMP could kill 90% of Americans in a year, why did they just defund the Congressional EMP Commission?"
As we reported on ANP back on October 12th, despite pleas from EMP experts such as Dr. William R. Graham and Dr. Peter Vincent Pry, the intelligence has fallen upon deaf ears and as this story over at The Hill reported, North Korea won the battle against America's EMP Commission. Sadly, losing that battle could result in 90% of Americans dead within the year following such an attack and as was asked by Dr. Pry in this ANP story back on October 10th, will America's epitaph be 'died of stupidity'? Yet we need to remember that it WASN'T North Korea that killed the EMP Commission but those within America.
And because of that, maybe we shouldn't be surprised that the EMP Commission has been disbanded as their warnings have gone unheeded for nearly 17 years, leaving America's biggest 'achilles heal' totally un-addressed. Despite more and more evidence that North Korea has the capability to launch such an attack upon America, we're reminded that all they'd need was one successful attack to send America quite literally back to the dark ages. You can see the statement given by Dr. Pry and Dr. Graham to Congress in the Scribd document that we've embedded below videos.
With America now suffering through one disaster to the next with droughts and fires, massive weather modification taking place across the country, what appears to be an orchestrated psy-op going on in Las Vegas with nothing making any sense with the coroners office there on lockdown and earth changes from the east coast to the west, we take a look within this story at why the website Deagel.com's forecast for 2025 America likely gives us a very accurate view of what future America will look like. With depopulation events now happening across the nation, many more are likely on the way if the globalists goals are to be met.
First, from the Organic Prepper story:
So, for 17 years, this group has been ringing the warning bell and no one has been listening. Now that the threat is at our doorstep, their funding has been pulled. Something doesn't add up.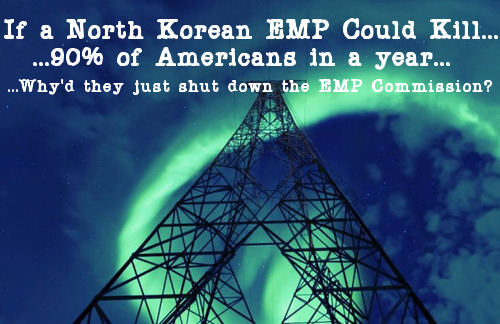 Why would the EMP Commission suddenly be disbanded at a time when America may be under the greatest threat that we've ever been of an EMP attack with these same experts recently warning that 90% of Americans could die after such an attack upon us? If there really are 'enemies of America within' who want Americans dead in huge numbers such as those shown over at Deagel.com, there'd be no better way than an EMP attack upon us.
Likely called either 'fake news' or a 'conspiracy theory' by the mainstream media and the general US population, the websiteDeagel.com is still forecasting an 85% drop in the population of America between now and 2025. With 324 million people living in the US in 2016, their bizarre forecast of only 54 million people living here in 2025 defies explanation.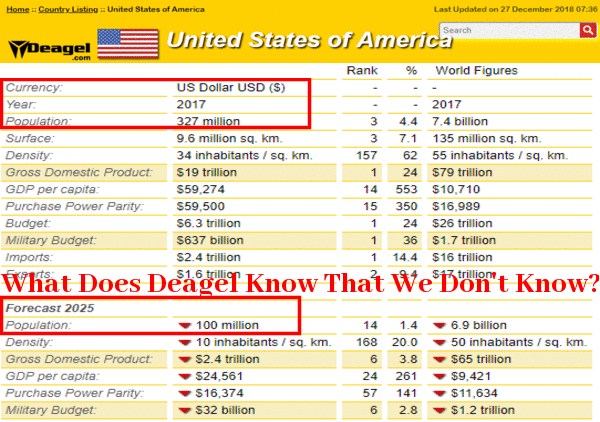 While the population density drop of 34 inhabitants per square mile in 2016 to only 6 inhabitants per square mile in 2025 as seen in the screenshot from Deagel above might delight those who find it difficult to live among huge crowds of people, they also put further emphasis upon what America might look like within only 7 years. The huge drops in both gross domestic product and GDP per capita show an America as a 3rd world nation, or an America sent back to the dark ages via an EMP attack that brings down our grid and is just beginning to truly rebuild our infrastructure.