How Much Protein In Your Deep Pantry?
How Much Protein In Your Deep Pantry? by Ken Jorgustin – Modern Survival Blog
While considering a preparedness plan for food procurement and storage you should know about protein requirements. It's easy to store carbohydrates, but not so easy (and more expensive) to store some of the proteins.
WHAT IS PROTEIN?
Protein is a macro nutrient necessary for the proper growth and function of the human body. Among other things, proteins are also the building blocks for muscles. We all need protein – in varying amounts – to live a healthy life.
Proteins are part of every cell, tissue, and organ in our bodies and these body proteins are constantly being broken down and replaced internally. The protein in the food we eat is digested into 'amino acids' that are later used to replace these proteins (those that are broken down) in our bodies.
HOW MUCH PROTEIN DO I NEED?
There is considerable debate over the amount of protein that a person needs to consume each day, however according to the Centers for Disease Control (CDC), in general it's recommended that 10–35% of your daily calories come from protein.
Below are the Recommended Dietary Allowances (RDA) for different age groups.
Grams of protein needed each day:
Women age 19+ (46 grams or 1.6 ounces)
Men age 19+ (56 grams or 2 ounces)
Children ages 1 – 3 (13 grams or 0.5 ounces)
Children ages 4 – 8 (19 grams or 0.7 ounces)
Children ages 9 – 13 (34 grams or 1.2 ounces)
Girls ages 14 – 18 (46 grams or 1.6 pounces)
Boys ages 14 – 18 (52 grams or 1.8 ounces)
The following list indicates the amount of protein in various foods (grams and percentage). It does not account for any other health aspects — be they good or bad.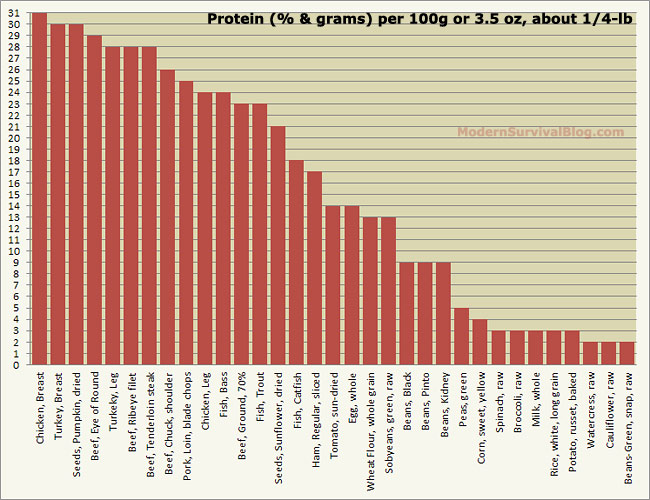 LIST OF PROTEIN IN FOODS
Percent protein by weight, and number of grams
per 100 grams (3.5 ounces, or about 1/4-pound) of food.