Where the S&P Will Be on March 31, 2018
Where the S&P Will Be on March 31, 2018 by BY Brian Maher – Daily Reckoning
Where will the S&P be in six months?
Today we don the prophet's motley… snatch a glimpse of the future… and reveal exactly where the S&P will close on March 31, 2018.
Sam Eisenstadt was the director of research at leading investment research firm Value Line.
He retired in 2009 after 63 years with the firm.
But Eisenstadt still toils over a complex forecasting model that spits out six-month economic predictions.
Now… we trust most forecasting tools precisely as much as we'd trust a dog with our dinner.
But MarketWatch's Mark Hulbert says Eisenstadt's model ranked first in risk-adjusted performance over the three decades Hulbert tracked competing models.
Between the scale of zero and one — dead wrong and dead on — it scores 0.31.
We admit, 0.31 is not nearly as certain as death… much less taxes.
But note how closely Eisenstadt's model tracks the S&P's actual record since 1957: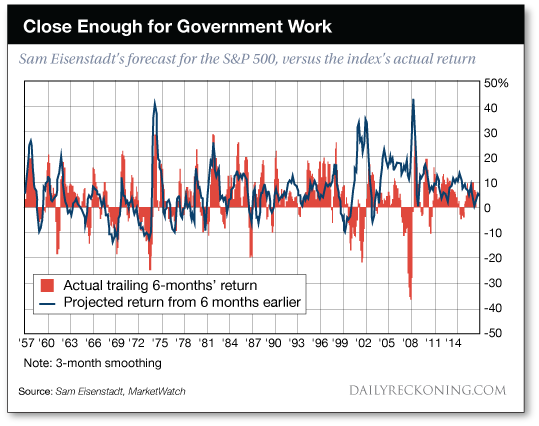 You'll notice two significant warts on the record. But perfection is not to be found on this side of eternity.
And of all forecasting models, few come closer to the Kingdom of Heaven.
Hulbert:
Though you might be disappointed that [it] isn't higher, you should know that most of the models that get attention on Wall Street and in the financial press have [records] that are far lower — if they're not actually zero.
Eisenstadt's model shows that low interest rates and positive market momentum indicate the most promising futures.
What do today's conditions portend for the next six months?
Despite the Federal Reserve's recent hikes, interest rates remain historically low.
And market momentum?
The Dow has notched 63 record highs since Trump's November election.
The S&P tallied its sixth consecutive record close last Thursday — its longest streak in over 20 years.
All in all… it's clear, sun-drenched skies as far as eyes can see.
loading...
Sharing is caring!