Dear Jamie Dimon: Predict the Crash that Takes Down Your Produces-Nothing, Parasitic Bank and We'll Listen to your Bitcoin "Prediction"
Dear Jamie Dimon: Predict the Crash that Takes Down Your Produces-Nothing, Parasitic Bank and We'll Listen to your Bitcoin "Prediction" by Charles Hugh Smith – Of Two Minds
This is the begging-for-the-overthrow-of-a-corrupt-status-quo economy we have thanks to the Federal Reserve giving the J.P. Morgans and Jamie Dimons of the world the means to skim and scam the bottom 95%.
Dear Jamie Dimon: quick quiz: which words/phrases are associated with you and your employer, J.P. Morgan? Looting, pillage, rapacious, exploitive, only saved from collapse by massive intervention by the Federal Reserve, the source of rising wealth inequality, crony capitalism, privatized profits-socialized losses, low interest rates = gift from savers to banks, bloviating overpaid C.E.O., propaganda favoring the financial elite, tool of the top .01%, destroyer of democracy, financial fraud goes unpunished, free money for financiers, debt-serfdom, produces nothing of value to society or the bottom 99.5%.
Jamie, if you answered "all of them," you're correct. The only reason you have a soapbox from which you can bloviate is the central bank (Federal Reserve) saved you and your neofeudal looting machine (bank) from well-deserved oblivion in 2008-09, and the unprecedented, co-ordinated campaign by global central banks to buy trillions of dollars of bonds and stocks.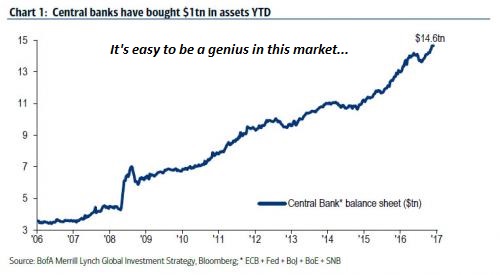 Central Banks Have Purchased $2 Trillion In Assets In 2017
This 8-year long central bank intervention has:
1) transferred billions in what were once interest payments earned by savers and pension funds to banks such as J.P. Morgan
2) boosted your sales by flooding the financial system with low-cost credit
3) lifted your stock far above its value in an unmanipulated market and thus
4) awarded you immense stock-option and bonus-based wealth for doing nothing but letting the central banks enrich J.P. Morgan and its peers.
In other words, your claim of "financial genius" is based solely on central bank intervention. J.P Morgan would have done very well in the past eight years if they'd replaced you with a crash-test dummy. In fact, the shareholders would have done much, much better if the crash-test dummy had a Post-It note on its chest reading "buy bitcoin."