"The Most Important Chart in the World"
"The Most Important Chart in the World" by Justin Spittler – Casey Research
Do you own U.S. stocks? If so, you have to see this…
The chart below doesn't show a stock, a commodity, or even a high-flying cryptocurrency. Instead, it depicts an unstoppable trend that most investors have never even thought about. See for yourself.
You're looking at the percentage of people living in the United States who are 65 years of age or older.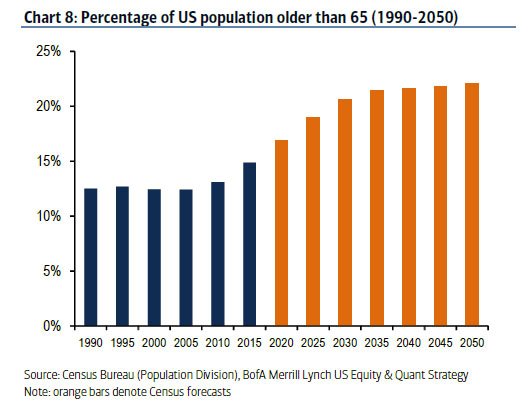 You can see that the number of seniors in the United States is about to explode.
This may not seem like a big deal to the casual observer. But it's going to have profound investment implications.
Don't just take my word for it, though.
• Two weeks ago, Raoul Pal called this "the single most important chart in the world"…
That's a bold statement. But Pal knows what he's talking about.
He used to run hedge fund sales at Goldman Sachs. He later comanaged the GLG Global Macro Fund, one of the world's biggest hedge funds.
Pal made so much money by the age of 36 that he stopped managing outside money in 2004. But he didn't completely retire.
Today, Pal writes the Global Macro Investor newsletter, one of the world's most exclusive investment newsletters. His readers include hedge fund managers, sovereign wealth funds, and pension funds.
In short, Pal is one of the world's top "big picture" thinkers. It pays to listen to him.
• So, I started researching U.S. demographics immediately after I saw this…
And it didn't take me long to realize something…
Pal isn't the only big-league investor who thinks this is a big deal.
Bill Gross is also deeply concerned about America's aging population.
Gross is one of the world's leading bond experts. He used to run PIMCO, one of the world's largest money managers. Today, he manages about $1.9 billion at Janus Capital.
In January, Gross said demographics would likely "dominate investment markets and returns for the next few decades until the Boomer phenomena fades away."