Shares of the Swiss National Bank Soar 64% in Two Months
Shares of the Swiss National Bank Soar 64% in Two Months by Wolf Richter – Wolf Street
What the heck is going on? 
The central bank of Switzerland has become a huge hedge fund since it decided in January 2015 to print Swiss francs — for which there is huge global demand — and sell these freshly created francs to buy bonds and stocks that are denominated in euros and dollars. US stocks are a particular favorite. The Swiss National Bank (SNB) has thereby created a fantastical money-fabrication scheme. This scheme is publicly traded. And the shares have become a doozie.
Today, the shares (SNBN) closed at a new high of 3,126 Swiss francs, having soared 64% since July 19 in cryptocurrency-fashion. This chart shows the daily moves since May: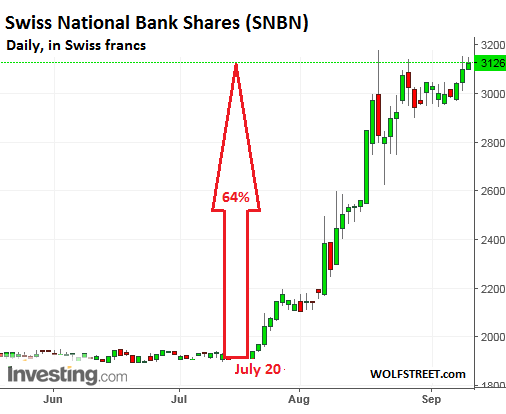 In January 2015, the SNB "shocked" the financial markets globally by scrapping its minimum exchange rate of CHF 1.20 to the euro and switched to a draconian negative-interest-rate policy and massive asset purchases — massive for a tiny country like Switzerland — to keep the value of the franc from rising against the euro.
This chart of weekly moves shows how the SNB's shares spiked 28% during those heady days in January 2015, how things calmed down afterwards, relatively speaking, and how all heck broke loose in July 2016, with the shares soaring 200% in a little over a year, including 90% since April: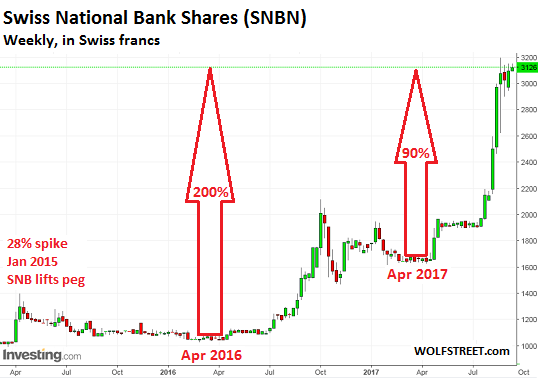 "The SNB share resembles long-term bonds rather than shares (as the dividend is limited to 6% of the share capital by law)," says the Swiss National Bank. But by the looks of things, they resemble the latest cryptocurrency.
As of the end of the second quarter, the SNB had 2,558 US stocks on its balance sheet, according to its 13F filing in August with the SEC, valued at the time at $84.3 billion, including 90 new positions since the first quarter, 1,433 increased positions, 253 decreased positions, and 36 position it sold entirely.