Here's How Higher Risk for Wall Street Means Higher Silver Prices
Here's How Higher Risk for Wall Street Means Higher Silver Prices By Alessandro Bruno BA, MA – Lombardi Letter
Silver Prices Could Make Big Gains Thanks to Higher Volatility
As risks increase across the board and economic indicators fall short, gold prices have shown a substantial recovery. On September 5, gold closed at about $1,340 per ounce and even went as high as $1,345 per ounce. And gold's little brother, silver, has not disappointed either. Silver prices have also enjoyed a dynamic couple of weeks.
Since the minor stock market correction on July 7, silver prices have risen. Silver has simply been experiencing major demand. That upward momentum should last. Indeed, the downward trend that began in 2016 could not last in the face of the multitude of factors threatening Wall Street now.
Also Read: Silver Prices in 2017: This Chart Shows Silver Prices Could Hit $100
But, in July, silver struggled to break the line of resistance around $17.50 per ounce. This time, thanks to North Korea and Kim Jong-un's determination to act as a nuclear mosquito harassing the United States, resistance is futile. Silver closed but a few cents away from $18.00 per ounce. Should it manage to hit $18.50, prospects of $20.00 per ounce or higher are as good as gold.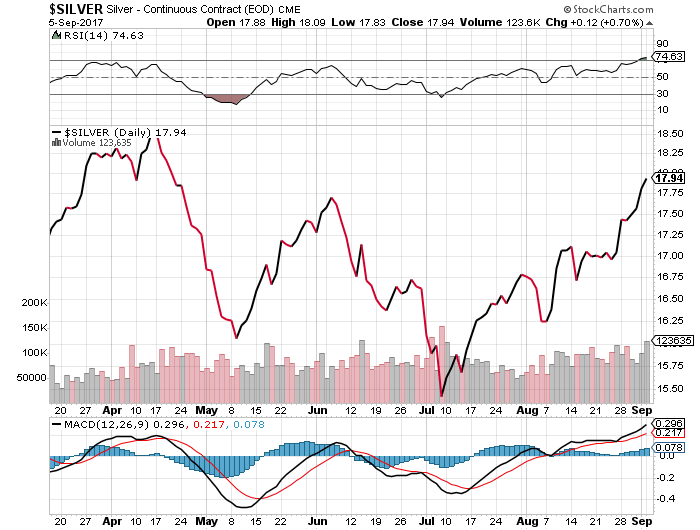 Chart courtesy of StockCharts.com
Some Key Factors That Will Support Higher Silver Prices
To understand why silver has such potential, it's worth examining some key factors that affect its price in the short term and the long term. The price of silver, of course, varies first and foremost according to its supply and demand, which is also influenced by many factors. Demand is generally constant, while supply is limited—as is the case for most precious metals.
Demand increases in periods of uncertainty. The equity markets don't appreciate uncertainties. In such periods, investors look for "traditional values." Silver, like gold and a few other precious metals, has acted as a haven for centuries.