Could Hurricane Irma Turn Florida's Nuclear Plants into an American Fukushima Disaster?
Could Hurricane Irma Turn Florida's Nuclear Plants into an American Fukushima Disaster? by Daisy Luther – The Organic Prepper
After watching the terrible series of cascading disasters on the Texas Coast after Hurricane Harvey, we know for a fact that the aftermath of a catastrophe can be just as bad (and sometimes worse) than the initial event. There's a terrifying potential threat in Florida in the form of 3 nuclear plants, two of which are directly in the projected path of Hurricane Irma. Could Florida's nuclear plants turn Hurricane Irma into the American version of Fukushima?
To be fully prepared for the possibility, people should prepare for the potential of a simultaneous hurricane and nuclear disaster.
Where are the nuclear plants?
Florida boasts of three nuclear facilities:
Turkey Point Nuclear Generating Station
St. Lucie Nuclear Power Plant
Crystal River Coal and Nuclear Power Plant
The first two plants on the list are right in the projected path of the eye of Hurricane Irma. See the map below.
Turkey Point is south of Miami and St Lucie is north of Fort Lauderdale and Palm Beach.
Here's the predicted timeline: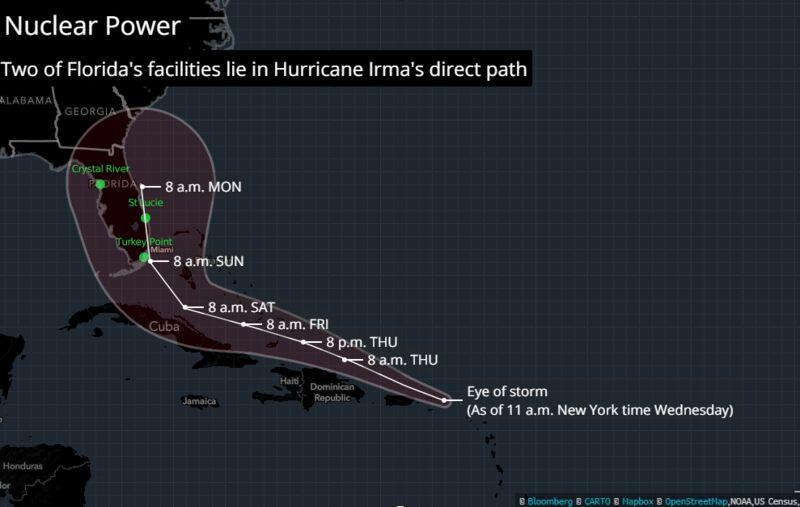 This isn't their first rodeo.
The nuclear plants have weathered some pretty major storms before. Turkey Point withstood Hurricane Andrew, despite some damage.
In 1992, Turkey Point withstood Hurricane Andrew, a Category 4 storm and one of the strongest the country has experienced seen. The plant sustained $90 million in damages and had to run on backup generators for more than five days. Its access road was blocked, communication systems shut down, and fire protection system damaged. The exhaust stack of one of its oil-powered units cracked.

Yet the reactors, shielded by six feet of steel-reinforced concrete and 20 feet above ocean level, remained unscathed. No radioactive material leaked, according to the Federal Nuclear Regulatory Commission. (source)
The St. Lucie plant withstood a hit from Hurricane Frances in 2004 and Hurricane Wilma in 2005.
But none of the previous storms were as powerful as Hurricane Irma is expected to be.
What is being done to prevent a nuclear disaster?
Unlike the Fukushima disaster, which was sudden and unexpected, the management of these plants knows what is coming. While Florida Power and Light (FPL) hasn't yet made the decisions to shut down the plants, the idea is a possibility.
Peter Robbins, spokesman for FPL, said shutting down a reactor is a gradual process, and the decision will be made "well in advance" of the storm making landfall.

"If we anticipate there will be direct impacts on either facility we'll shut down the units," he said…

…Robbins said the plant's reactors are encased in six feet of steel-reinforced concrete and sit 20 feet above sea level. Turkey Point has backup generators, extra fuel and, as a "backup to the backup," replacement parts and materials can be flown in from Tennessee.

The St. Lucie Nuclear Power Plant is equally protected, Robbins said, and can withstand severe flooding from storm surges. (source)