A Huge Breakout In Gold — Plus, 5 Must Knows
A Huge Breakout In Gold — Plus, 5 Must Knows by Zach Scheidt – Daily Reckoning
This week is set to be one that you'll remember for decades to come.
No, I'm not talking about the solar eclipse that will move across the U.S. today.
The event occurring this week is one that could have a huge impact on your family's wealth. I'm talking about the kind of wealth that you can pass on from one generation to the next. The kind of wealth that can make a difference in your life, and in the lives of the ones you love.
That is, of course, if you act before it's too late.
Today, I want to show you one of the most powerful charts that I've seen in years, and explain how this chart is proof of a wealth building opportunity that we've been covering here at The Daily Edge for some time.
Let me explain…
The Truth Behind Charts, Patterns, and Breakouts
The human nature is a very interesting phenomenon. Despite the diverse personalities in the world, there are a few characteristics that are common to most all of us. And those characteristics can predict how individuals will react to certain situations.
I enjoy learning about the way our brains are wired, because understanding people and our natural reactions makes me a better dad, a more empathetic friend, a stronger co-worker…. and a more successful investor.
You see, markets (the stock market, real estate markets, commodities market and more) are made from the buy and sell decisions of individuals. And individuals act in predictable patterns at key points in history.
This week is one of those key points. And the chart below proves it.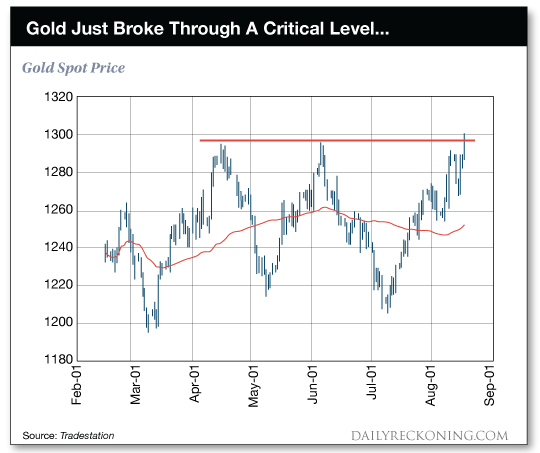 The chart shows the spot price for an ounce of gold.
So far this year, gold has been trading back and forth in a wide range. When gold moves down to about $1,200 per ounce, buyers have stepped in and pushed the price higher. And when gold has approached $1,290 per ounce, sellers have taken profits and pushed the price lower.