This 1 Chart Explains Why You Should Buy Gold Today
This 1 Chart Explains Why You Should Buy Gold Today by  Matt Badiali – Banyan Hill
On Bloomberg Television Monday morning, one of the guests made a comment to the effect that gold wasn't as good an investment as stocks. I yelled at the television.
I often hear people repeat the idea that gold isn't an investment … that investors are better off in equities. I disagree.
Every investor should hold some gold in their portfolio. It's a great hedge against a collapse in the market. In this environment of ever more paper money, gold has a place in your portfolio today.
The chart below explains everything you need to know about why you should own gold. It puts the current bull market into perspective.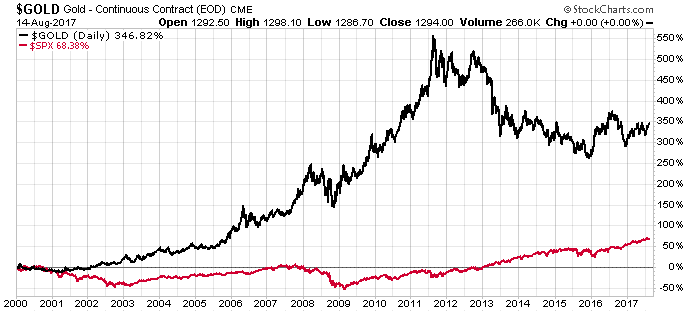 This is a chart of the price of gold (black line) versus the S&P 500 (red line). As you can see, since 2000 gold has returned 350%. The S&P 500 is up just double digits.
Gold is an easy thing to own and store. Buy some, stash it in your safe-deposit box and let it protect some of your portfolio.
Good investing,


Matt Badiali