Gerald Celente on Markets: "When Interest Rates Go Up, This Thing Goes Down" (Podcast)
Gerald Celente on Markets: "When Interest Rates Go Up, This Thing Goes Down" Podcast by Mike Gleason – Money Metals
Coming up the one and only Gerald Celente of the Trends Journal and one of the top trends forecaster in the world joins me for an explosive interview on the dollar, the growing tensions with North Korea and a wildcard that he sees driving a big run in gold. You will not want to miss an incredible interview with Gerald Celente, coming up after this week's market update.
Well, the invincible U.S. stock market finally came under some selling pressure this week as tensions between the United States and North Korea flared up. Bombastic threats from Kim Jong-un to strike the U.S. military outpost of Guam were met with elevated rhetoric from President Donald Trump and Defense Secretary James Mattis. They warned the North Korean regime that it would be wiped out if it initiated an attack or continued making threats.
As concerned investors sold equities on Thursday, precious metals markets received some significant safe-haven inflows. Gold is up 2.0% this week to bring spot prices to $1,286 an ounce as of this Friday morning recording and pushing toward its high for the year at just under $1,300. Silver shows a weekly gain of 4.8% and now trades at $17.09 per ounce. That's a 7-week high.
The platinum group metals are also on the move, with platinum up 2.0% to $990 an ounce and palladium up 2.2% to $899.
Yesterday's big outperformance in metals has gold bulls eyeing a possible trend change in the Dow to gold ratio. Since mid 2011, blue chip stocks have been trending higher relative to the yellow metal. The Dow-gold ratio has risen from just under 6 to 1 to a high of just under 18 to 1 last month.
That's still far below the secular high in the ratio from 2000. But it's also far above the secular low of 1 to 1 seen in 1980. So, there is plenty of room for a major move in the ratio to commence.
Looking at the Dow and the gold market individually, both seem ripe for major moves. In the case of the Dow, the most remarkable feature of this summer's rally to record highs was vanishing volatility. Day after day prices would inch up in narrow trading ranges.
Extreme lows on the VIX volatility index are unsustainable for very long. And volatility finally came back with a vengeance on Thursday with the Dow dropping 200 points.
In the case of gold, volatility has also been muted in recent months. Even the gold mining stocks, which are notorious for their wild swings, settled into a narrow sideways trading range. But the precious metals sector now appears poised to break out of its summer doldrums to the upside.
It's too early to call a definitive breakout until gold prices actually close strongly above the $1,300 resistance level. If and when that happens, bulls would be back in the driver's seat.
And it could be just the beginning of a major trend change in the Dow to gold ratio that lasts for years – with gold outperforming the Dow. That's why it's definitely not too late for investors to move some wealth out of the seemingly expensive stock market and into physical precious metals.
As we've seen this week, it's not just gold that stands to benefit when equities go out of favor. The more thinly traded white metals of silver, platinum, and palladium can gain even more dramatically when investors seek hard assets.
Successful investors have to think about which trends are exhausted and which ones may just be getting started. Successful investors don't try to catch exact tops and bottoms, but they do rotate out of old positions and into new ones as opportunities present. They also diversify their holdings to avoid being too heavily concentrated in any one asset.
Successful precious metals investors don't just own one metal in one size. They accumulate multiple bullion products in multiple sizes. You never know when you might find it useful or necessary to sell, trade, or gift a tenth ounce of gold instead of a full ounce, for example.
Money Metals Exchange offers fractional size gold, fractional size silver, and even fractional size platinum and palladium products in addition to plenty of options in the standard one-ounce size. We also offer hefty 10-ounce gold bars and 100-ounce silver bars for serious stackers. And any orders of $1,000 or more include free shipping and insurance.
Well now, without further delay, let's get right to this week's exclusive interview.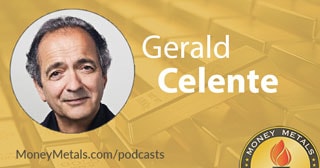 Mike Gleason:It is my privilege now to welcome in Gerald Celente, publisher of the renowned Trends Journal. Mr Celente is a well-known trends forecaster and highly sought-after guest on news programs throughout the world and has been forecasting some of the biggest and most important trends before they happen for more than 30 years now. It's always great to have him on with us.
Mr. Celente, thanks so much for the time today, and we appreciate you joining us.
Gerald Celente: Thanks for having me on, Mr. Gleason.
Mike Gleason: Well, I want to start out talking about the first half of the year of Donald Trump's presidency. Trump had an ambitious agenda to get the economy going but hasn't been able to push any significant legislation through this Congress. How do you see that playing out from here, and what bearing does all this have on the dollar, Gerald, because the greenback has been taking it on the chin here recently?