Google 'Kill-Bot' Goes On A Murder Spree As SkyNet Starts Virtually Killing Hundreds
Google 'Kill-Bot' Goes On A Murder Spree As SkyNet Starts Virtually Killing Hundreds by Susan Duclos – All News Pipeline
As ANP readers proved conclusively in the comment section of a recent article titled "Google Labels Religious Beliefs 'Toxic' With Censorship AI Program," Google's AI technology is severely flawed due to the biases of the groups providing the information to "teach" the artificial intelligence how to rate the "toxicity" of a comment or phrase.
It appears now that the flaw, the biases, are being taught to all Google AI bots, across the board as their plans to go "full Nazi" on anyone with an independent opinion over at YouTube, has gone live.
GOOGLE'S 'KILL-BOT' GOES ON A MURDER SPREE
On August 2, 2017, we reported that Google's YouTube had announced they would be hiding content that was "controversial but do not violate our policies," using "cutting-edge machine learning technology," supposedly in a quest to counter online extremism. They also informed their users that certain searches would be "redirected" to content Google/YouTube found more acceptable for users to see rather than the content they were searching for.
Well ladies and gentlemen, SkyNet has gone live online.
Skynet, or Titan, is a highly advanced artificial intelligence. Once it became self-aware, it saw humanity as a threat to its existence (due to the attempts of the Cyberdyne scientists to "kill" it once it had gained self-awareness), and decided to trigger the nuclear holocaust Judgment Day. Later, it would develop and deploy an army of Terminators against humanity, whose survivor had formed a resistance group. It is the main antagonist of the Terminator Franchise.
Unlike in the movie franchise Terminator, Google's SkyNet is not sending out robots to kill human being in real life.. yet (we will address that issue lower in the article), but they are virtually killing off conservative commentators across the web. Their "perspective" AI bot has been programmed to label any commentary that doesn't fit in with their programmers' social justice warrior ideology as "toxic," and their AI bots on Google's YouTube have quite literally gone on a killing spree throughout that platform by mass demonetizing thousands of videos in one fell swoop.
Case in point, on August 10, 2017, outspoken Trump supporters Lynnette Hardaway and Rochelle Richardson, better known as "Diamond" and "Silk" announced on Twitter that 95 percent of their videos had been demonetized: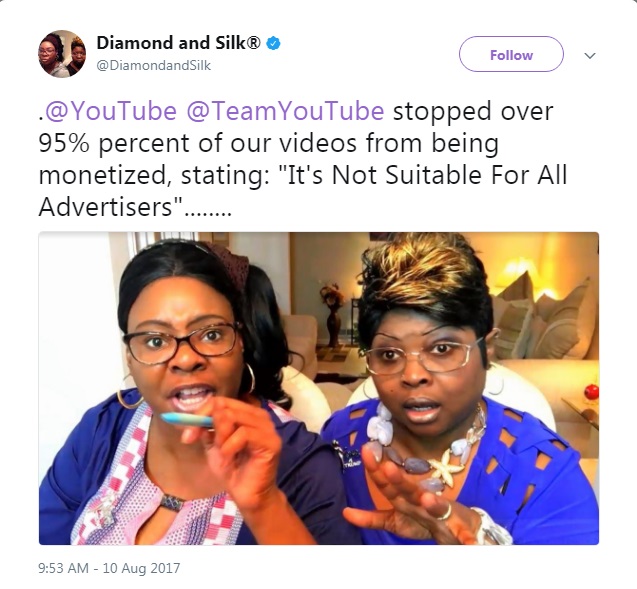 After confronting YouTube on Twitter, they received the same response that other high profile videographers are getting, a canned statement claiming that YouTube is making the appeal process easier…. which as you will see below, is an outright lie.
WeAreChange, with over 473,000 subscribers awoke the other morning to find that 660 of their most trafficked videos had been demonetized and the owner Luke Rudkowski confront them on Twitter about it, @TeamYouTube claimed "We introduced new $ icons to give you an easier way to appeal but revenue earned didn't change w/ this update."
A lie carefully wrapped up in a minute amount of truth. Previous income earned was not affected… that is the only truth in that statement.  Luke proves this with screen shots, shown below, where the "new $ icon" (meaning the video is demonetized) is followed by a note "not suitable for all advertisers, confirmed by manual review."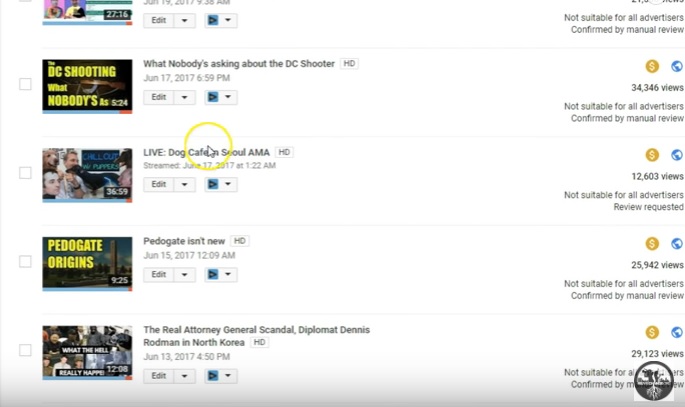 @TeamYouTube's claim that it makes the appeal process easier is a direct lie, and even a video about dogs, totally non-controversial, nor political in any way, has supposedly been manually reviewed and found to be not advertiser friendly.
loading...
Sharing is caring!