Can A New War Finally Kill the Bull Market?
Can A New War Finally Kill the Bull Market? by Greg Guenthner – Daily Reckoning
We're on the brink of nuclear war.
Or at least that's what the media wants you to think.
Haven't we seen this movie before?
Not four months ago, stocks stuttered during a week of headlines warning of war. First there was an airstrike in Syria. Then the U.S. dropped the mother of all bombs in Afghanistan. (You already forgot about the MOAB, didn't you?) Not to be outdone, North Korea threatened to test new missile technology every single week.
But the terrifying news couldn't stop the bull market. In fact, North Korea's threats marked the end of a six-week pullback in the S&P 500.
Sure, world events were causing plenty of anxiety among the investing class. But we took the opportunity to buy the dip. Now the S&P is up more than 5% since it bottomed out in late April.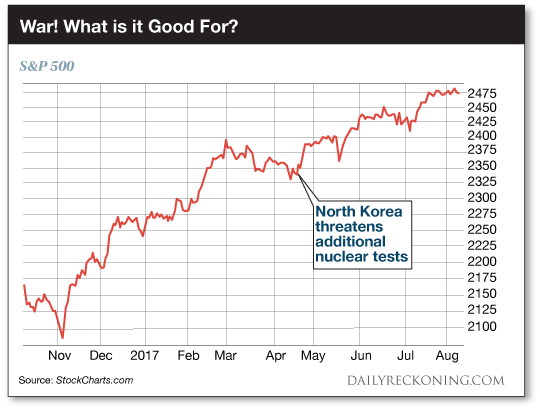 This week, fresh war worries are sprouting up everywhere we turn. In fact, there's enough terrifying news rolling in to convince the average investor sell every share in his portfolio and use the cash to stock up on canned goods and bottled water.
The political pundits have plenty to scream about. The current freak out over North Korea threatening a missile strike on U.S. military bases in Guam is a welcome break from the slow August news cycle, as far as the media is concerned.
Trump's fire and fury remarks quickly jumped from the front page to the financial section. The summer doldrums needed a jolt in the arm. CNBC blamed the market's abrupt slide on North Korean tensions. But at the end of the day, the S&P 500 dropped less than one lousy point. So much for that theory. On a day where the world was supposedly falling apart, the market didn't even budge.
loading...
Sharing is caring!