Something Very Strange About The Media Black Out On Major PedoGate Arrests
Something Very Strange About The Media Black Out On Major PedoGate Arrests – Worldwide Crackdowns Happening Now by Susan Duclos – All News Pipeline
On July 20, 2017, the DOJ issued a statement on their website about the take down of two of the largest "Dark web" market places, AlphaBay and Hansa, which had been "used to sell deadly illegal drugs, stolen and fraudulent identification documents and access devices, counterfeit goods, malware and other computer hacking tools, firearms, and toxic chemicals throughout the world."
According to publicly available information on AlphaBay prior to its takedown, one AlphaBay staff member claimed that it serviced over 200,000 users and 40,000 vendors. Around the time of takedown, there were over 250,000 listings for illegal drugs and toxic chemicals on AlphaBay, and over 100,000 listings for stolen and fraudulent identification documents and access devices, counterfeit goods, malware and other computer hacking tools, firearms and fraudulent services. Comparatively, the Silk Road dark web marketplace, which was seized by law enforcement in November 2013, had reportedly approximately 14,000 listings for illicit goods and services at the time of seizure and was the largest dark web marketplace at the time.

"This is likely one of the most important criminal investigations of the year – taking down the largest dark net marketplace in history," said Attorney General Jeff Sessions. "Make no mistake, the forces of law and justice face a new challenge from the criminals and transnational criminal organizations who think they can commit their crimes with impunity using the dark net. The dark net is not a place to hide. The Department will continue to find, arrest, prosecute, convict, and incarcerate criminals, drug traffickers and their enablers wherever they are. We will use every tool we have to stop criminals from exploiting vulnerable people and sending so many Americans to an early grave. I believe that because of this operation, the American people are safer – safer from the threat of identity fraud and malware, and safer from deadly drugs."
The operation against AlphaBay was led by the Federal Bureau of Investigation (FBI), the US Drug Enforcement Agency (DEA) and the Dutch National Police, with the support of Europol. The operation against Hansa was led by Dutch authorities.
What caught my interest regarding this latest massive operation against internet crime on the Dark Web was the claim found at a website called Conservative Base, which reported one of these Dark Net marketplaces were connected to the crowdsourcing campaign that ANP reported on in December 2016, for "Terminating both Donald Trump and Mike Pence," where Dark Web users were collecting funds to assassinated the then President Elect and the VP elect.
In attempting to verify the connection between the operation that took down these two Dark Web market places and the campaign against President Trump and VP Pence, I ran across what has to be the most under-reported (at least in the MSM) blockbusters from May 2017, where 900 suspected pedophiles were arrested after a two year investigation, with over 350 sexually abused children  identified or rescued,  and the child porn kingpin was sentenced to 30 years in prison.
MAJOR PEDOPHILIA NETWORK UPDATE IGNORED BY THE MEDIA
The Dark Web site was called "Playpen,"  and was taken down in 2015, but that take down spawned thousands of investigations, the results of which was announced on the FBI website on May 5, 2017.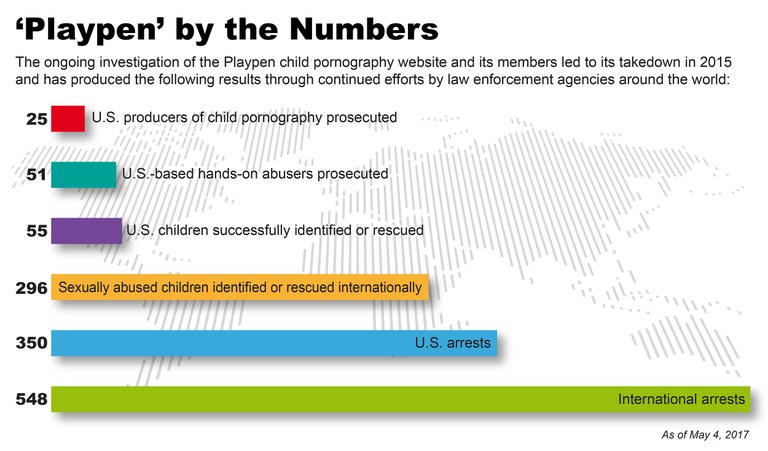 Via the FBI website:
Arresting Playpen's administrators, however, was only the beginning. In January 2015, the FBI, in partnership with the Department of Justice Child Exploitation and Obscenity Section, launched Operation Pacifier—an effort to go after Playpen's thousands of members. Using a court-approved network investigative technique, agents uncovered IP addresses and other information that helped locate and identify users. Investigators sent more than 1,000 leads to FBI field offices around the country and thousands more to overseas partners, Alfin said.
It is interesting how the FBI phrases that particular part of the narrative, as we note the methods they utilized as their investigative technique, was quite controversial at the time.
The FBI has been criticized for what it called a "court-approved network investigative technique" used to unearth information about the suspects. It emerged that the agency, with court approval, seized and ran the pedophile website for 13 days in February 2015.
The FBI's command of the Playpen site enabled the agency to infect over 8,000 users' computers with malware and hack them. Notably, the site was said to be more efficient and even experienced a boost in audience numbers with the FBI in charge of its content. (Source)
The criticism leveled at the FBI by the Electronic Frontier Foundation, was "The warrant here did not identify any particular person to search or seize. Nor did it identify any specific user of the targeted website," but as Peter Adolf, an assistant federal defender in the Western District of North Carolina, writes in a motion trying to get the charges thrown out, "The FBI distributed child pornography to viewers and downloaders worldwide for nearly two weeks, until at least March 4, 2015, even working to improve the performance of the website beyond its original capability."
According to that motion, "As a result, the number of visitors to Playpen while it was under Government control [increased] from an average of 11,000 weekly visitors to approximately 50,000 per week. During those two weeks, the website's membership grew by over 30%, the number of unique weekly visitors to the site more than quadrupled, and approximately 200 videos, 9,000 images, and 13,000 links to child pornography were posted on the site."
-->