Coinpocalypse: Is This The End of Cryptocurrencies?
Coinpocalypse: Is This The End of Cryptocurrencies? by Jeff Berwick – Dollar Vigilante
The selloff in cryptocurrencies continues today with bitcoin now falling below $2,000 to a low of $1,841 after hitting its all time high of $3,108.54 on June 11th, marking a 41% drop in the last five weeks.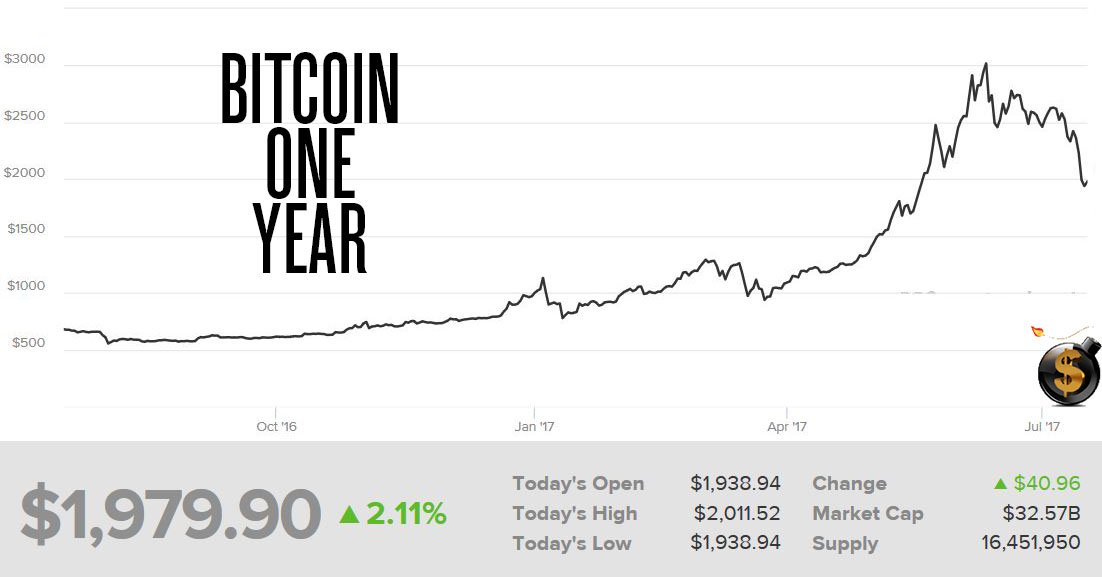 And the total value of all cryptocurrencies dropping to near $60 billion, down from their all time high of $116 billion on June 20th marking a nearly 50% drop in the last month.

Those are big drops in just one month, but were to be expected after such a massive runup. In fact, we have been recommending to subscribers to take profits for the last month.
And there were massive profits!
Those who bought when we recommended buying bitcoin at $3 in 2011 made a 100,000% gain when bitcoin peaked over $3,000. And those who bought Ethereum at $2 in 2016 when we recommended it, made a 20,000% gain when Ethereum hit $400.
A pullback of about 50% in the cryptocurrencies here is very healthy… and very needed. Even at today's levels, if you had bought a basket of all the cryptocurrencies a year ago, you'd still be up 400% in the last year.

And one year ago today, bitcoin was at $680. At $1,900 currently it is still up 180% in the last year.
A look at the all time chart for all cryptocurrencies shows that this is just a reasonable pullback after such a massive runup.

In fact, I have never been so bullish on cryptocurrencies.
I said numerous times in the last few months how shocked I was at how high many cryptos like Ethereum rose.
I was not expecting this kind of market interest in the cryptos this quickly. I was expecting it maybe a year from now, but not now.
And so this major move higher has shown the market interest and demand for cryptocurrencies. As I've said numerous times in the past, the cryptocurrency (r)evolution is the biggest thing to happen since the invention of the internet.
It changes absolutely everything. Bitcoin has already changed the world of money and banking. Ethereum has already changed how decentralized applications and smart contracts work. Steem has already changed social media. And we are JUST getting started!
For those who missed the massive runup in the last year you have just been given your second chance by the market!