What the Headlines Got Wrong about Friday's Data Dump
What the Headlines Got Wrong about Friday's Data Dump by Wolf Richter – Wolf Street
It elegantly depicted the same wobbly growth we've seen for years.
The news media had a field day on Friday morning – as if they were trying to force the Fed to change course with their headlines:
"Weak U.S. inflation, retail sales data dim rate hike prospects" – Reuters gleefully.

"Inflation Data Weakens the Fed's Case for Another Hike" – Bloomberg.

"Retail sales fizzle out in June" – MarketWatch.

"U.S. Retail Sales Fell 0.2% in June" – Wall Street Journal.

"Wall Street Hits Highs as Data Supports Fewer Rate Hikes" – New York Times.
But wait….
The data Friday morning depicts elegantly an economy of the same type we've seen for years: wobbly growth. The data was better than late last year when the Fed started hiking rates in earnest and when some Fed governors started talking about unwinding QE.
"Retail sales fell 0.2% in June." 
OK, that's from May to June, seasonally adjusted. Retail sales are veryseasonal, requiring massive adjustments to shoehorn the month-to-month jags into a smooth line. Even a small quirk in the adjustments can throw the percentage off bigly. In the bigger picture…
On a year-over-year basis not-seasonally adjusted – June 2017 compared to June 2016 – retail sales rose 3.2%!
This chart shows the year-over-year not-seasonally-adjusted percent changes in total retail sales, including food services; June's 3.2% increase is in the middle of the range of the past few years: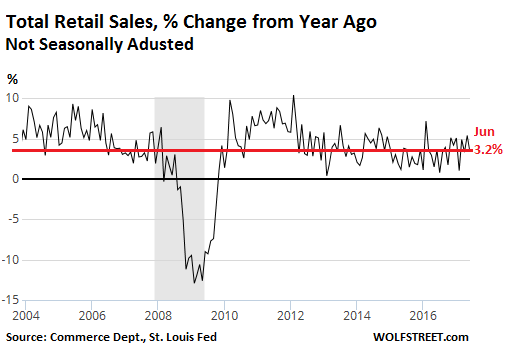 This retail sales increase shows that consumers are giving their darndest to keep this economy above water, despite all the problems they face. They're hypothecating their future to do it, but so be it, they're trying. And the Fed sees this too.